Gwent Wildlife Trust buys marshland for £124,000 next to Magor Marsh reserve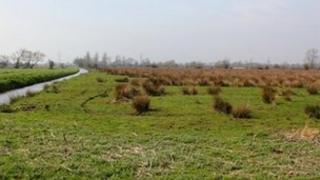 Conservationists say they have preserved rare south Wales peatland after buying 28 acres.
Gwent Wildlife Trust had hoped to buy 49 acres but said it had still been able to acquire the land it really wanted next to its Magor Marsh reserve.
It said it wanted marshy grassland at Barecroft Common, Caldicot, to be kept safe for the future.
The trust raised over £65,000, with half of the £124,000 price coming from the Countryside Council for Wales.
"This land is full of wild flowers, and represents one of the last examples of this type of marshy grassland habitat on the Gwent Levels, so it is was vital that we made every effort to keep it safe for future generations to enjoy," said Rebecca Price, the trust's conservation manager.
The trust's new chief executive, Tom Clarke, said donations had raised the money it needed in just over three weeks.
"We've purchased the land which is of most value to conservation, it was the bit I absolutely had to have for the trust," he said.
"It would have been great to buy it all, but we are happy to get what we really wanted.
"The funds were raised mostly by donations, people are amazing and I think they can see that this is securing something for posterity," he added.