David Cook murder trial: Defendant tells of rage after 'groping'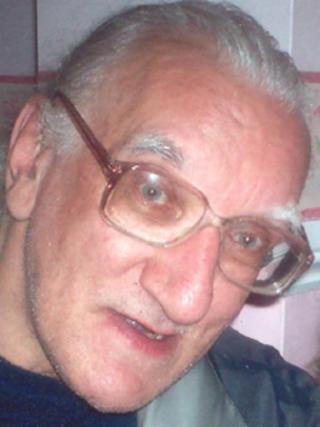 A convicted killer has told a jury how he strangled his neighbour with a TV flex after he flew into a rage following unwanted sexual attention.
David Cook, 65, denies murdering Leonard Hill, 64, but admits the killing at his Rhymney flat last June.
He said he flew in to a rage after Mr Hill groped him, despite becoming angry after a previous similar incident.
Mr Cook was jailed for life in 1988 for killing a Sunday school teacher. The trial continues at Newport Crown Court.
The court has heard Mr Cook was jailed for life in 1988, but was released on life licence in the latter part of 2009 and ended up living in a bungalow next to Mr Hill in March 2011.
The defendant told the jury he tied up Mr Cook and put the flex round his neck because it was "the only way he knew".
He said his neighbour had made an earlier sexual approach, which led to him storming out in fury and moving in to bed and breakfast accommodation for a few days.
In June, after he had returned home, he claimed Mr Hill came round to apologise and was invited in to the bungalow for coffee.
Mr Cook told the jury that Mr Hill's second sexual approach caused him to fly into a rage, and he punched Mr Hill to the ground.
Mr Cook described overpowering Mr Hill.
He said he thought he must have kicked Mr Hill because he could remember his leg hurting afterwards and that he believed he had punched him twice, but thought he was still conscious when he tied him up.
He told the court that he called Mr Hill names while using duct tape to tie his hands and legs.
He said: "I was in a rage, but it was a sort of controlled rage. Then I killed him."
Mr Cook said he gagged Mr Hill and killed him with a TV flex.
Asked why he put the flex around his neck, he said: "It was rage I suppose, it was the only way I knew."
He added a blindfold after Mr Hill was dead, the jury heard.
Mr Cook told the jury that after the killing he entered Mr Hill's house, took £40 from his wallet and spent the night there because he could not face going back to his own home.
He said he returned the next day with Mr Hill's money, some DVDs and some bread and cheese.
The jury heard that went to the local pub and spoke to people but Mr Cook said said he was very "panicky" and said that he knew he would eventually be caught.
He said: "I couldn't believe I'd committed another murder".
The jury heard how he kept Mr Hill's decomposing body hidden under a pile of mats and carpets in a nearby bedroom, even making coffee when the team overseeing him in the community visited him.
Mr Cook gave himself up in Swansea 12 days after the killing, the court heard.
'Lying'
Asked if he felt any remorse, Mr Cook replied: "I do now, yes. Thinking back he wasn't a bad bloke, actually.
"He did what he did to me but I should not have done what I did to him."
The prosecution claims the defendant is lying about Mr Hill making sexual advances and that his motive for the killing was his own debts.
Mr Cook has previous convictions for robbery in the 1980s when he tied up his victims using tape, wire and cords, the court has heard.
The jury has also heard how in 1987 he strangled Sunday school teacher Beryl Maynard with a dressing gown cord at her home in Reading.
The judge has told the jury that because Mr Cook was convicted for murder before, it does not mean he is guilty of murder now.
Mr Cook denies murder and the case continues.