Yaseen Ali Ege murder trial: Father knew nothing of boy's injuries, court told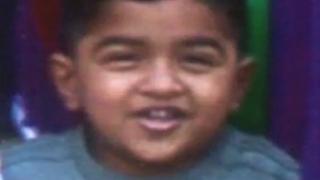 The father of a seven-year-old boy whose mother is on trial for his murder told police he knew nothing of any injuries to the child, a court heard.
Yaseen Ali Ege of Canton, Cardiff, died in 2010, and his body was set alight, Cardiff Crown Court has been told.
Sara Ege beat him and his father must have known of injuries, it is claimed.
Mrs Ege denies murder and perverting the course of justice. Yousuf Ali Ege denies causing or allowing the death of a child by failing to protect him.
In a video of a police interview played to the jury, Yousuf Ali Ege, 38, was heard to say: "I cannot say for one second I saw Yaseen injured.
"I never saw him in pain. I can't describe what happened, how Yaseen suffered so much without showing any pain or sign of injuries."
it is claimed that Mrs Ege regularly beat Yaseen.
Body on landing
The jury has heard that Mrs Ege, 31, attacked her son with a blunt instrument at the family home and then set his body on fire in a bedroom
The court was told that she dragged his body onto the landing and then called 999.
When the emergency services arrived, they could not revive Yaseen.
The prosecution has claimed that post-mortem examination evidence shows that he had died before the fire started.
Pathologists found multiple injuries on Yaseen's body, including broken ribs, a fractured arm and a fractured finger.
The prosecution said Mrs Ege admitted in police interviews to having set the fire to "protect" herself by attempting to ensure her son's injuries would not be discovered.
The trial continues.