Firstsource suggests 'misunderstanding' over Cardiff call centre job announcement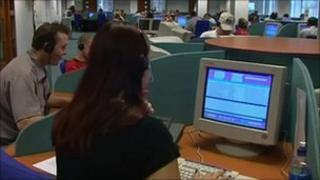 An Indian-owned call centre firm has suggested a "misunderstanding" for an announcement by the first minister of hundreds of jobs coming to Cardiff.
Firstsource confirmed last week it was opening a call centre in Cardiff Bay employing around 600 people.
However, it has emerged the majority of staff will transfer from another call centre operator in the city.
The Welsh government said it was good news and did not want to be "drawn into a debate on a matter of semantics".
At a news conference at the end of March, First Minister Carwyn Jones welcomed the decision by Firstsource to open a base in Cardiff.
At the time he said: "An announcement has been made that hundreds of jobs will be coming to a business centre in Cardiff because of Firstsource, a Mumbai-based company who will be bringing business processing services here to the capital."
'Very enthusiastic'
Staff at the new operation run by Firstsource in Cardiff Bay will deal with call centre enquiries for the satellite television company BSkyB.
But that work is currently being carried out in Cardiff by the outsourcing call centre operator Conduit.
The vast majority of the 600 people working at Firstsource will be transferred over from Conduit.
When asked whether the first minister's comments had been premature, a spokeswoman for Firstsource said: "We have never said that we were going to take on new jobs."
"I cannot comment on the timing. Perhaps there was a misunderstanding.
"There may have been a bit of over-enthusiasm about a company coming to Cardiff.
"I am sure he was being very enthusiastic and wanted to talk about some good news.
"What he said was not agreed with Firstsource so there may have been a misunderstanding.
"We want to keep a good relation with the first minister. It was a misunderstanding."
A Welsh government spokesperson said: "We welcome the announcement by Firstsource that it is opening its first centre in Wales and will be employing 600 jobs.
"This is a significant figure and good news for all concerned.
"It is not the time to be drawn into a debate on what is clearly a matter of semantics - the creation and safeguarding of jobs are of equal importance in terms of the economy and the individuals involved."
Global competition
The call centre industry in Wales has broadly welcomed the announcement by Firstsource and has not commented on what the first minister said.
Sandra Busby, managing director of the Welsh Contact Centre Forum, said: "Firstsource's confirmation of the securing of the Sky jobs in Wales is fantastic news.
"The Welsh Contact Centre Forum is pleased to welcome them to the well-established community we have here.
"The contact centre industry is probably the only in Wales to have consistently recruited through the recession and we now support close to 200 centres employing over 30,000 people.
"This deal is particularly significant as it marks the first time an Indian outsourcer has located in Wales, proving that we're a destination that can compete against the rest of the world on inward investment."
Conduit, the American company whose staff will transfer to Firstsource with the BSkyB contract, announced in February that it was creating 600 jobs in Cardiff to run the homecare service for British Gas.
There was an angry reaction from opposition parties in the assembly.
For the Conservatives, shadow business minister Nick Ramsay said the first minister should clarify his remarks.
"Either 600 jobs are coming - or they're not," he said.
Welsh Liberal Democrat AM Eluned Parrott said: "Only a Labour government as incompetent as this one can think the issue of literally hundreds of extra jobs is merely 'semantics'".