Cardiff City shirt change proposal angers fans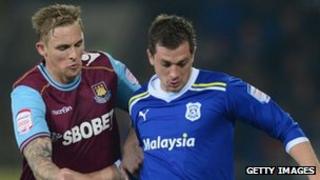 A Cardiff City supporters' group says a change in the club's traditional colours and badge is a "fait accompli".
The club's Malaysian owners have proposed investing £100m on the team, a new training ground and increasing the stadium's capacity.
But it would come on condition the home kit changes from blue to red, with a dragon instead of a bluebird crest.
Cardiff City Supporters Trust is "very disappointed" at the proposed change and lack of consultation.
Tim Hartley, chairman of the trust attended a meeting with other fans' representatives where Bluebirds chief executive Alan Whiteley explained the proposals.
Mr Hartley told BBC Wales: "We were told in no uncertain terms that this was a fait accompli.
"This investment is going to come into the club. We were shown a design of the logo, Cardiff City will be playing in red, they will be wearing a dragon on their chests.
'Lack of consultation'
"This is going to happen whatever us supporters think about it.
"It's great news about the investment, very disappointing about the change of colour and the change of the logo and the lack of consultation with fans."
Mr Hartley also urged a rethink in a statement released by the supporters trust where he said changing from the Bluebirds to the Dragons and wearing red shirts is "perhaps a step too far".
"We are grateful to the Malaysians for their continued investment in Cardiff City," he added.
"But, personally, I would urge them to think again and respect some of the central traditions of what Cardiff City has been and is."
Cardiff City fan Haley Evans told BBC Radio Wales: "I feel like they've got us over a barrel and we are not going to take this lying down.
"By the time they've paid for this stadium expansion, training facilities and this rebrand, how much is going to be left for the playing side?"
The proposals for the Championship club include increasing the capacity of the Cardiff City Stadium to 35,000 by 2014, as well as new training facilities and money to buy players.
But there has been a mixed reaction to the rebranding from supporters so far.
It is proposed Cardiff will play in red shirts, black shorts and red socks with a blue away kit, while the club's badge would have a dragon on it instead of a bluebird.
The club's Malaysian investors believe red is a more dynamic colour for marketing in Asia, as well as of more national significance in Wales.
While the shirts and club badge could change colour, Cardiff City sources categorically deny that the club - whose nickname is "the Bluebirds" - will become known as "the 'Red Dragons''.
Sports and heritage minister Huw Lewis AM tweeted: "Football ownership isn't a business like any other. Dealing with people's hopes, dreams & tradition. Should respect that."
Former Cardiff City captain Jason Perry believes Cardiff's home shirt should remain blue.
"The Malaysians are very successful business people in terms of raising money and in turn you can invest more into the football club in terms of facilities and players," he said.
Soul
"But it's not for me. I think football is about identity. I wouldn't want to see the soul of the club sold for millions to be invested in.
"Cardiff City is blue and should always be blue."
A spokesman for Cardiff City said the proposals were part of an annual review of the club which is due to be completed next week.
"We would like to assure supporters that any decisions will include the long term interests of our supporters, our community and the survival and development of Cardiff City Football Club in a highly competitive and modern sporting industry," a statement said.
"As a club we also appreciate the importance of our history, along with our position within the community.
"We fully recognise the legitimate interests of the fans, supporters and media in the affairs of the club and their right to information in respect of the same.
"On Tuesday we met with and held discussions with representatives from the local media, along with recognised supporter group and messageboard delegates.
"During these various meetings we discussed the various options going forward, all of which are to be ratified in upcoming board meetings as already mentioned.
"As such we will communicate any decisions made as quickly as possible, but it serves no interest to comment in depth at this time until those decisions have been taken."