Marie Curie creates 140 jobs in Pontypool to run network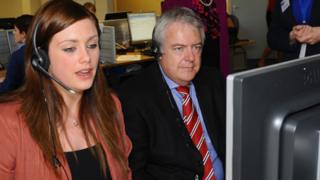 New UK offices to run the network of nurses and fund-raisers for the Marie Curie charity have been officially opened in Pontypool.
The centre is creating 140 jobs and will be the hub to organise 2,000 nurses for terminally ill people, as well as volunteering.
First Minister Carwyn Jones was meeting staff and volunteers at the opening.
Marie Curie said centralising its administration meant staff could concentrate on core work.
The centre will offer nursing referral, nursing support, volunteering recruitment and fundraising support.
Chief executive Thomas Hughes-Hallett said: "Pontypool has much to offer us and we are proud to be able to create new work opportunities for local people".
He said it provided the "ability to recruit locally for key roles together with the availability of good value."
He said the introduction of the nursing support centre meant nursing managers had more time for the coordination and care needs of patients and families.