Wayne Jackson jailed for Newport rape and sex attack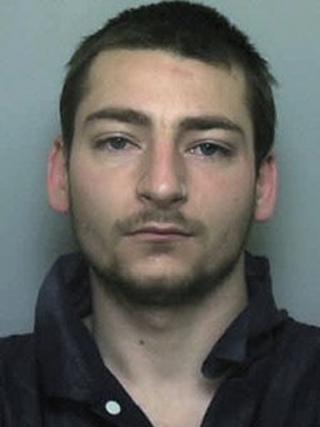 A "dangerous criminal" is beginning an indeterminate jail sentence after carrying out two sex attacks in the space of an hour in Newport.
Wayne Jackson, 23, struck in the subway near the city's railway station, groping his first victim and raping the second before robbing her.
Jackson, of Newport, had just served a jail sentence for robbery before the attacks last November.
The judge at Cardiff Crown Court said he posed "a very great risk".
The court heard the first victim, 28, was pushed to the ground before being sexually assaulted.
Jackson returned to the underpass and raped another woman, 31.
Prosecutor Leighton Hughes said: "Morgan took advantage of the seclusion provided by the subway to perpetrate two furious sexual assaults within an hour of each other.
"The victims were young women making their way home and neither expected he would use that night to satisfy his deviant nature."
The court heard Jackson grabbed his second victim, threw her to the floor and raped her.
During the attack last November he punched her in the face and told her he would kill her if she did not do what he wanted.
He then took her purse and mobile and fled the scene while the traumatised victim was found by a police officer who had gone to investigate the first attack.
Public protection
Jackson admitted rape, sexual assault and robbery.
Judge David Wynn Morgan told him: "Standing in the dock it is quite evident from the whole of your conduct, including your demeanour in court, that you are a very dangerous criminal.
"It is impossible not to come to the conclusion that you pose a very great risk and I am imposing a sentence for the protection of the public.
"This sentence is indeterminate and you will remain in prison till it is safe to release you and if you are released you will remain on licence for the rest of your life."
Speaking after the case, a spokesperson for one of his victims said: "Seeing him in there smirking just shows he has no remorse what so ever.
"He obviously finds this all very funny but I hope this sentence wipes the smile off his face."
Jackson will spend six years in jail before he can apply for parole.
He will go on the sex offenders register for life.
After the hearing, Det Insp Mark Cleland, in charge of the British Transport Police investigation, said: "This was a brutal and shocking attack where both victims were subjected to horrific ordeals.
"Jackson is a predatory sex offender and a danger to the public, and although it is some comfort that he will not be in a position to offend again, it has left the victims with emotional scars that will last a lifetime.
"I would reassure the public that incidents such as these are extremely rare..."