Cardiff City FC drop plan for red shirts instead of blue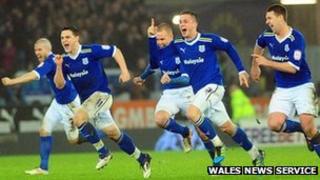 Cardiff City have dropped plans to change the football club's blue shirts to red, say the Malaysian owners.
In an open letter to fans, chairman Dato Chan Tien Ghee said proposals for red shirts and a dragon logo had been leaked before being finalised.
He confirmed the plans had been dropped due to "vociferous opposition".
However, he warned that the club could not afford to continue losing money, and that an investment strategy said to be worth £100m would now be reassessed.
Supporters groups welcomed the change of heart.
Proposals to change the traditional blue shirts and bluebird logo sparked a fierce debate among supporters when rumours emerged on Monday evening, following the club's Championship play-off semi-final defeat by West Ham United.
Club chief executive Alan Whiteley confirmed there were plans to introduce red shirts and a dragon logo for the new season in a meeting with the Cardiff City Supporters Trust on Tuesday night.
The chairman, known as TG, said in a letter to fans on Thursday that there was never any plan to change the club's name, but confirmed that there had been discussions about the crest and home colours.
Mr Ghee said it was "unfortunate" the proposals were leaked before being finalised by the board.
But he said they were intended to boost the club's marketability and "demonstrate the symbolic fusion of Welsh and Asian cultures", and were not meant as a "slight" on traditions.
"This would have been a springboard for the successful commercialisation and promotion of the club and its brand, driving international revenues and allowing us to fund transfers and success locally, thereby giving the club the best chance of competing at the higher reaches of competition," he said.
"This was not meant as a slight in any way shape or form on the club's traditions or history which we recognise are the lifeblood of any club.
"It was intended as a positive change to allow us to adapt and embrace the future.
"Notwithstanding a number of rumours there were no further plans to turn the stadium red or make other radical changes."
He also spelled out the club's financial situation: "It is clear to all concerned that the club simply cannot continue to function and exist in its current state, effectively losing large amounts of money each month, while acquiring more and more debt.
"We have continued along this path until the end of the current season, but the club inevitably now faces bold and real world decisions should we want to see the club survive. As romantic and simplistic a notion as it may seem, maintaining our current course without growth or change, is not, and cannot be, an option".
'Good faith'
The chairman stressed: "We have no desire to cause offence or for people to think we have no respect for the club or its history as it would appear has been suggested in various quarters including by local assembly members.
"We would have hoped that the significant investment made to date would have already demonstrated our good faith in that regard. Indeed, we are disappointed that anybody would think the contrary.
"In the light of the vociferous opposition by a number of the fans to the proposals being considered as expressed directly to our local management and through various media and other outlets, we will not proceed with the proposed change of colour and logo and the team will continue to play in blue at home for the next season with the current badge."
The chairman added that a proposed investment and development strategy - said to be worth £100m - would now be reassessed, and may include looking for new and additional partners and investors.
Initial reaction from fans on social media appeared to welcome the change of heart by the club's owners, but some feared that the promise of £100m investment may now be in doubt.
A joint statement from Cardiff City Supporters' Trust and Cardiff City Supporters' Club said they welcomed the decision to drop the branding plans.
"Like the vast majority of Cardiff City fans, we are extremely grateful for the financial support Vincent Tan and his associates have provided in difficult times and we hope that their investment in our wonderful club can continue," said the statement.
'Radical proposals'
"Many supporters will be pleased at the announcement by the club chairman Dato Chan Tien Ghee that the team will play in blue next season and the Bluebirds club badge will continue to be used.
"Our Malaysian backers have clearly recognised the strength of feeling about the traditions and history of the club which stretch back more than 100 years.
"We believe that it is very important for the future of the club that there is dialogue between fans' representatives and the club's board, particularly when radical proposals are under consideration.
"It is now important that everyone - owners, team, staff and fans - continue to pull together to develop a strong and sustainable future for our football club which sees the Bluebirds moving forward in a positive way."
Welsh Conservative leader Andrew RT Davies, who said he was a long-standing supporter, also said he was "delighted" by the rethink.
Mr Davies said it would have been a "real shame" to lose the continuity and tradition, but urged the owners to continue to examine how to improve finances.
"The reaction to these plans is by no means a rejection of the philosophy of the owners, who have invested heavily in the club since taking over," he added.