University project offers free counselling to vulnerable people in Newport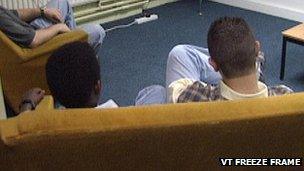 A free counselling service aimed at travellers, ethnic minorities, carers, asylum seekers and refugees is being launched in Newport.
It aims to help vulnerable groups as well as individuals with mild to moderate psychological problems.
The Newport University Community Counselling Service (NUCCS) aims to help 500 people in its first year.
It follows a pilot project which provided quality training for students and academic research opportunities.
The scheme has been extended following a Big Lottery grant of £500,000.
Service manager Blanka Hubena said the university launched the pilot scheme as something useful to the community which would provide quality training for students and opportunities for academic research.
The pilot scheme running two evenings a week in Caerleon has so far helped more than 60 clients with 40 others awaiting help.
It is hoped the city-wide project would help as many as 500 people in its first year, with another 150 in each subsequent year.
The work will be carried out by professional counsellors, students, and volunteers.
It will offer a range of therapies including integrative counselling and cognitive behavioural therapy, as well as arts and music therapy.
Ms Hubena said the aim was to offer mid to longer term counselling for people from vulnerable groups who may be unable to access or afford it.
"The work that the service will be doing in the diverse Newport communities in terms of providing extra capacity and a type of provision that may otherwise be unavailable is incredibly important," she said.
"We will be supporting the well-being of people in Newport and thus investing in the future of south east Wales."
Ms Hubena added they were keen to avoid duplicating counselling services already available via the NHS, which were generally limited to short-term treatment or for more serious psychological conditions.
The university, which has forged links with similar projects run by universities in Leicester and Dundee, believes its scheme to be unique in offering free counselling to members of the public.
Professor Stephen Hagen, deputy vice chancellor at the university, said the scheme would boost links with the community and help academic research.
He said: "The grant will provide the university with opportunities to learn from and engage more closely with communities in Newport and beyond on a longer term basis, and pave the way for further research projects to develop knowledge about the needs and preferences of those communities."
The university is providing £250,000 worth of funding and support in kind for the programme, where counsellors will carry out their work at the offices of a number of partner organisations.
These include charities working with carers and ethnic minorities, as well as the SHARE Centre, which supports community regeneration in the Stow Hill area of Newport.
SHARE Centre chief executive Nina Finnigan said: "This is such a fantastic initiative which is so badly needed in Newport.
"The best thing about it is that it will help the most vulnerable and hard to reach in the city."
Alison Beard, manager of the Olive Branch project for vulnerably housed individuals, added: "We realise that the homeless as well as refugees and asylum seekers are often overlooked and ignored.
"Having the university provide us with a counselling service is vital when these people are trying to deal with real issues and not just the symptoms."
Related Internet Links
The BBC is not responsible for the content of external sites.