Cardiff City Malaysian owners to fly in after shirt row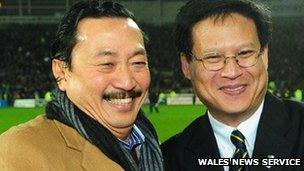 Cardiff City's Malaysian owners are travelling to south Wales for a crucial board meeting.
Chairman Dato Chan Tien Ghee will arrive on Monday night, with the club's future high on the agenda of the directors' meeting on Tuesday.
Last week, the owners ditched plans to change the team shirts from blue to red, considered lucky in the Far East.
However, the chairman, known as TG, said an investment strategy said to be worth £100m would now be reassessed.
Following "vociferous opposition" from some Cardiff fans, he issued a statement saying it was "unfortunate" the proposals were leaked before being finalised by the board, and said the proposed colour change would not proceed.
However, he warned that the club could not afford to continue losing money, and that an investment strategy said to be worth £100m would now be reassessed.
That led to a warning from one finance expert who said City fans have to agree a compromise between "tradition and commercial reality" if the club is to clear its debts.
Geoff Mesher, a partner at Grant Thornton, said the club's financial position has "not been great" with big debts still to clear.
He added that the "risk is owners reassess what they are putting in the club" if they could not raise money through mechanise in new markets.
Proposals for a colour change to the traditional blue shirts and bluebird logo sparked a fierce debate and split supporters' opinions.
Some say the club's future is more important than the colour of a shirt, whereas others feel heritage is more important than finance.
But following the chairman's statement, many supporters now appear to be willing to compromise to secure the future of the club, which is reported to be losing £1m a month.
Among them is Education Minister Leighton Andrews, a long-time City fan who tweeted "BLUEbirds" on initially hearing of the Malaysians' plans.
However, Mr Andrews has since blogged that despite loving "old things", he would watch the team regardless of their colour.
"I believe in strong leadership, on and off the football pitch. And I believe in vision and ambition," he wrote.
"Sometimes strong leadership causes shock-waves. But sometimes shock-waves are needed to provoke forward movement.
"Leadership backed by vision and ambition can succeed.
"I applaud the ambition that brought Craig Bellamy to the club last season, and the ambition that wants to make Cardiff City a successful global brand, with an appeal to the football markets in the Far East.
"I applaud the vision that sees the opportunities for the Welsh dragon in the markets of the Far East."
Related Internet Links
The BBC is not responsible for the content of external sites.