Struck-off social worker Julian Swan loses appeal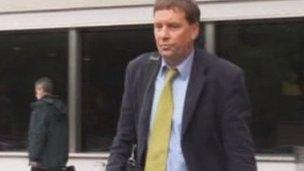 A former Vale of Glamorgan social worker who failed to warn a foster family about a teenager's history of sexually inappropriate behaviour has lost his appeal after being struck off.
The teenager went on to sexually abuse two young children in the family.
Julian Swan was removed from the register of social workers in July 2011 after being found guilty of misconduct.
A care standards tribunal rejected his claim that it was not a "proportionate response" to his actions.
The case goes back to 2008, when a 19-year-old who was about to leave the care system was placed with a foster family.
The family were not warned of the teenager's history of inappropriate sexual behaviour.
They took him into their home, where he seriously sexually assaulted their two young children. The teenager was later given an indeterminate prison sentence and the council apologised to the family.
The Care Council of Wales conduct committee found Julian Swan guilty of all four charges against him and struck him off.
Mr Swan claimed he had been "scapegoated" and lodged an appeal.
A care standards tribunal has now rejected the appeal, saying: "We consider that the factual conclusions of the conduct committee have a sound basis in that they are firmly supported by the evidence presented.
"We also confirm the conclusions that the appellant's conduct may call into question his suitability to remain on the register, and thus amounted to misconduct.
Explaining its decision, the tribunal added: "We have concluded that the appellant is a practitioner lacking in sufficient insight, in imagination and perhaps empathy, too willing to accept unquestioningly not just what his colleagues are telling him but also too willing to accept unquestioningly what he would like to believe without an adequate scrutiny of the facts.
"In those circumstances, we concluded that protection of the public demands that a removal from the register is the only appropriate sanction, because we are not satisfied on a balance of probability that a period of suspension would adequately enable the appellant to address the issues that we have identified."
Related Internet Links
The BBC is not responsible for the content of external sites.