Appeal over test gas drilling in Vale of Glamorgan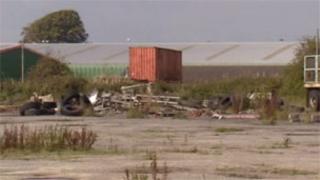 An appeal over a decision not to allow test drilling for gas at Llandow, Vale of Glamorgan, has got under way.
Gerwyn Williams from Coastal Oil and Gas wants to carry out exploratory drilling for conventional gas.
His original bid was rejected last year but he appealed and the Welsh government is carrying out an inquiry.
Opponents fear exploratory drilling for conventional gas could be followed by hydraulic fracturing - known as fracking - for shale gas.
However, the applicant, Mr Williams from the Bridgend based firm, has said the drilling would be for conventional gas, not shale gas.
Fracking involves the high-pressure fracturing of rocks such as shale with a mix of water, sand and chemicals.
Opponents in the UK and the United States, where it is widespread, say it can cause environmental pollution and sickness in local populations.
Fracking has also been cited as the "highly probable" cause of earth tremors in Lancashire last year.
Louise Evans, one of the lead campaigners from Vale Says No, owns Llandow Caravan Park.
She said: "As a local business owner I object to it. The drilling site would only be 800 metres from my business.
"They're looking at drilling 24 hours a day, seven days a week for six weeks.
"I'm concerned about the impact that will have on my business."
Coastal Oil and Gas was last year granted planning permission to drill a borehole to test for gas below farmland in Kent in what has been described as a similar scheme.
The company has been asked to comment.