Suspected sewage on Swansea and Pembrokeshire beaches is algae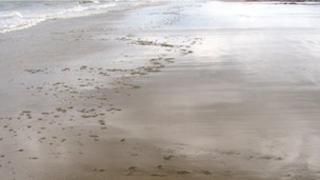 Suspected sewage washed up on beaches in Swansea and Pembrokeshire has been identified as rotting algae.
The Environment Agency Wales said the phaeocystis species of marine algae looks very similar to raw sewage and is commonly seen on beaches at this time of year.
It appears as a creamy brown foam, before turning darker brown and lumpy as it decays.
Although not dangerous, it should not be swallowed and contact avoided.
It could cause mild skin irritation if handled.
The algae is created by a combination of the recent warm weather together with nutrients in the water.
A spokesperson from the agency said: "The algal blooms, particularly when viewed close up, can very easily be mistaken for sewage but people can rest assured that whilst the foams washed inshore aren't particularly attractive their presence is a natural event, which occurs most years."
If it follows the patterns of previous years, this algae may also crop up on other beaches along the Welsh coastline.