Newport speedway track facing demolition after 48 years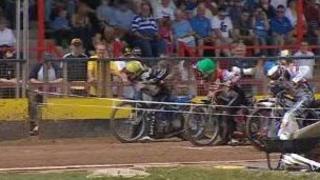 Newport's speedway track is set to be demolished and a haulage depot built on the site, ending nearly 50 years of the sport in the city.
A logistics firm is to exchange contracts on the land, and hopes to build a base for its smaller operations within 18 months.
MCL Logistics, of Chepstow, Monmouthshire, said the site would create about 70 jobs.
Newport has the only purpose-built speedway track in Wales.
Fans have been critical of council planning officers for allowing a demolition application to go ahead without consulting local councillors.
Newport council said planning permission was not required for the demolition.
The track was opened in 1964, originally at Somerton Park and attracted thousands of fans.
It quickly built an international reputation, hosting competitions between Russia and Great Britain in 1965, but in recent years the sport's following in the city has reduced.
In 2009, promoters Steve and Nick Mallett took over the Premier League Newport Wasps Speedway team.
But after a deal to attract stock car racing fell through earlier this year, the team went bust.
The current owners, Sydney and London Properties, said "it was not economically viable for speedway to be resumed at the site".
'On the map'
Former professional rider and speedway team GB manager Phil Morris said: "Unfortunately it has come to this. The hardcore fans are devastated.
"It's a big miss to them. Once a week they come down here.
"It will be sorely missed."
Liswerry councillor Allan Morris said councillors should have had a say in the demolition plans.
"There is a groundswell of people that want to see this fantastic sport carry on in Newport," he said.
"Newport is known throughout the world for this particular sport, among other things.
"It put us on the map. It was very much part of the city."