Yaseen Ali Ege murder trial: mother blames husband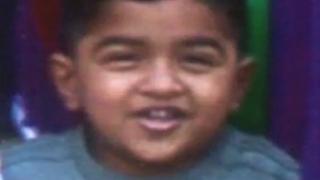 A 31-year-old mother accused of beating her son to death claimed it was her husband who beat the seven-year-old and not her, a court has heard.
Sara Ege, who denies murder, told Cardiff Crown Court Yousef Ali Ege hit Yaseen the day before he died.
She said she tried to intervene but her husband looked Yaseen in the bathroom and beat him for another 10 minutes.
Mr Ege denies causing the death of Yaseen by failing to protect him. The trial continues.
Mrs Ege told the court she had called through the bathroom door to her son and told him to be quiet so his father would stop the alleged beating.
The following day, she said, Yaseen was withdrawn and in a lot of pain and she did not send him to school.
Mrs Ege told the jury she had an argument with her husband about what he had done and that he started hitting her.
Bleeding from mouth
During the alleged row, she said Yaseen came into the room and tried to get between herself and her husband.
Mrs Ege claimed her husband then hit and kicked Yaseen again until they both fell over.
She said Yaseen started bleeding from the mouth and when she said Yaseen had to be seen by a doctor, her husband refused.
Mrs Ege said she cleaned Yaseen up and tried to give him water but he turned blue. His eyes turned back and she said that he was dead.
She then broke down in tears in the dock.
Mrs Ege claimed her husband had hit Yaseen before with a wooden pestle. On this occasion, she was summoned to school because Yaseen was in pain.
'Shame on families'
She told the teachers she would take him to see the doctor, but she did not because her husband, she said, had refused to let her go.
Mrs Ege said her husband and other members of his family had beaten her during the marriage and that she had not taken action because of the shame it would have brought on their families.
However, the prosecution claims Mrs Ege was wholly responsible for beating Yaseen and then setting the fire around his body in July 2010.
The prosecution also says Mr Ege must have known of the violence being carried out on Yaseen and he should have taken action to prevent harm coming to him.
Both Mr and Mrs Ege deny the charges against them.