Ex-US army medic Sean Edmunds from Hengoed in charity run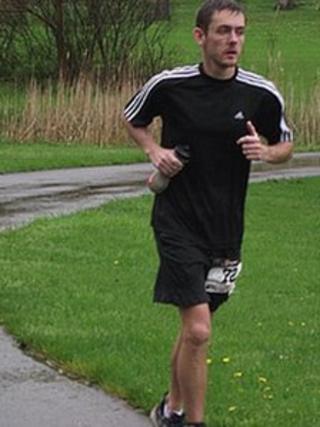 A Welshman who suffered severe injuries while serving in the US army in Iraq is preparing to run solo across America to raise money for charity.
Sean Edmunds, who is originally from Hengoed in Caerphilly county, was hurt in a bomb blast while serving as an army combat medic in 2007.
He moved from Wales to upstate New York in 2000 where he married and started a family.
Two years later he joined the US Army's 509th Parachute Infantry Regiment.
In 2007 he was stationed in Iraq, but his tour of duty ended after just six months when he was severely injured by an improvised explosive device (IED).
Airlifted
"I was conducting a traffic control point with my platoon and I was checking vehicle IDs as they were coming through and as I was crossing the road an IED was remote detonated right in front of me," Mr Edmunds said.
"I don't really remember too much after the detonation. I was kind of in and out of consciousness and I was airlifted to Baghdad and came home to the States after that.
"I had a traumatic brain injury and had shrapnel to my jaw and cheek. I had by-lateral hearing loss, I wear hearing aides now. I also had some shrapnel in my arm."
As he sought to overcome his injuries he rediscovered a passion for running and decided to run across America for two veterans' charities.
"When I was in the army I had considered running home from Alaska when my contract was up and obviously with everything that happened that got shelved and I didn't think anything of it for a while," added Mr Edmunds.
"But then I started thinking I would like to do this run but now I've got something to do it for, so I thought I could use this run as way to raise awareness about other wounded veterans and the needs that they have."
Challenge
Starting in Oregon in the western US on 2 June, Mr Edmunds plans to run between 38 (61km) and 40 miles (64km) a day until he reaches Delaware on the Atlantic coast 80 days later.
On the way he will be joined by family and friends and other war veterans.
"One thing that going to be on my mind a lot throughout this run is why I'm doing the run and for my friends that I lost in Iraq," he said.
His wife Donna said the event, called Reason to Run 2012, had given them hope for the future.
"It was such a huge challenge in the beginning when Sean was wounded," Mrs Edmunds said.
"It's such a shock that it felt a bit draining really, and a bit hopeless, so to see how far he's come in his recovery process and mentally and physically has been really great for all of us."
In Hengoed, Mr Edmunds's mother Denise said she would be following his progress every step of the way.
"I'm just immensely, immensely proud of him as his mother," she said.
"He has come so far. He has suffered so much through his injuries."