Newport family wins multi-million pound birth error compensation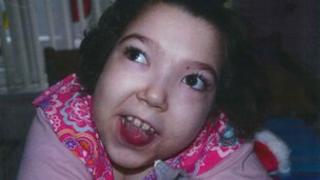 The family of a nine-year-old girl has won a multi-million pound compensation package for devastating injuries suffered at birth.
Harriet Riley cannot speak or walk after developing cerebral palsy when she was starved of oxygen at the Royal Gwent Hospital, Newport.
The High Court ordered Aneurin Bevan Health Board, which made a public apology, to pay a £2 million lump sum.
Harriet will also receive £325,000-a-year for lifelong care.
Both Harriet's parents, Christopher and Louise Riley, were at the court to hear Mr Justice Walker approve the life-long settlement.
The judge paid his own tribute to Harriet for "coping in her own fashion with all that has befallen her".
He also commended her parents for making "great sacrifices to give her the best possible quality of life".
During Friday's hearing, the health board's barrister, Paul Rees QC made a public apology to Harriet and her family for "failings" in relation to the management of her birth.
'Smilely Riley'
"The defendants accept that aspects of the care provided were not to the required standard," he said.
"They accept that there should have been an earlier delivery."
Speaking outside the court, Harriet's mother said her daughter had a formidable and sparkling character, and was known as 'Smiley Riley'.
"She has a smile which lights up the room," added her father, golf professional Mr Riley.
He said his daughter is immobile and "relies on us for absolutely every part of her care".
Although unable to speak, she makes herself understood with a "smile or a moan", and has musical tastes which include Take That, he added.
The couple, who also have two younger children, said the compensation would make a massive difference to Harriet, and Mr Riley commented: "This will put us firmly in control of her care".