Queen's Diamond Jubilee: South east Wales' planned celebrations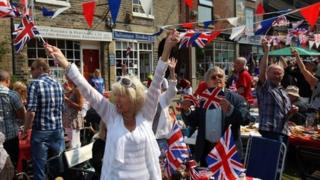 As the Queen prepares to mark her Diamond Jubilee, south east Wales is set for a four-day weekend of celebration.
The bunting has been hung out for street parties, picnics and parades for the jubilee.
On Tuesday, Queen Elizabeth II will become only the second monarch in British history to celebrate 60 years on the throne.
However, some anti-monarchist events are also planned around the region.
The number of Diamond Jubilee street parties in Wales is expected to exceed those which celebrated the wedding of the Duke and Duchess of Cambridge.
Councils received more than 300 applications for street closures in June, which is 100 more than for Prince William's marriage to Kate Middleton last year.
Rhondda Cynon Taf council received 58 and Cardiff council received more than 40.
First Minister Carwyn Jones visited Oldcastle school in Bridgend on Friday where they buried a time capsule and hosted a street party for lunch.
On Saturday, celebrations were kicked-off in style with the homecoming parade of the 1st The Queen's Dragoon Guards in Cardiff. They left City Hall at midday, marched down St Mary Street, long Mill Lane and finished at the Hayes.
The public is also invited along to a party held by Access for Black and Minority Ethnic Children Cymru at Eastmoors community centre in Splott from 11:00 BST.
Porthcawl library is hosting a royal story time from 15:45 BST.
Cardiff's main celebration, the Big Jubilee Lunch, starts at midday on Sunday in St Mary Street and live footage of the Thames Diamond Jubilee Pageant will also be screened.
A flotilla of 1,000 boats, led by the Queen, will sail down the River Thames.
On Monday, a network of 2,012 beacons will be lit across the UK and Cardiff Castle will join in with its own ceremony in the Norman Keep at 22:00 BST.
There will also be a beacon lit on Flat Holm Island in the Severn Estuary.
On Tuesday, community picnics will be held at Bryngawr Country House and Park, Bridgend, and on Llandaff cathedral green, Cardiff, where there will be donkey rides and storytelling in the bishop's castle.
Bridgend councillor Phil White said communities have come together to share the "excitement and enthusiasm".
"In this Olympic year I think we should make every effort to bond with our friends and neighbours whether it's at a big street party or something smaller at home," he added.
But as much of Wales gears up to celebrate the jubilee, not everyone is happy.
Anti-monarchist group Republic's sole aim is to replace the Queen with a democratically elected head of state.
Its members plan to protest during the jubilee celebrations.
Nick Wall, Republic's chairman in Wales, told BBC Wales: "It's an institution with a great deal of political power and we believe that political power should be subject to the ballot box and not just a consequence of bloodline."
Paul Flynn, MP for Newport West, calls himself the "moderate voice of sanity in the Commons".
"On royal occasions the House of Commons becomes infantilised. We suddenly go back to babyhood and behave as though we're living in a fairy story with supreme beings and the rest of us as being of no worth whatsoever," he said.
Republicans will be holding an anti-jubilee party at the Globe, Albany Road, in Cardiff on Monday.