Yaseen Ali Ege murder trial: Father Yousuf Ege denies beatings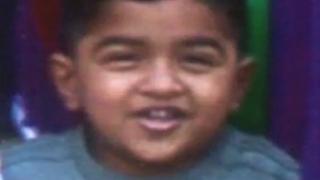 The husband of a woman accused of murdering their young son has denied regularly beating them both.
Cardiff Crown Court heard medical evidence detailing injuries Yousuf Ege, 38, allegedly caused to his wife Sara.
But Mr Ege said they had been inflicted unwittingly when she "lunged at him during an argument".
Mrs Ege, 32, denies murdering her seven-year-old son Yaseen. Mr Ege denies causing his death by failing to protect him. The case continues.
Mrs Ege is accused of beating her son "like a dog" with a stick.
The court has heard that the beatings were so brutal that he died from his injuries and his corpse was burned to destroy the evidence.
The court heard that Mrs Ege had ended up at the accident and emergency unit of her local hospital at least half a dozen times.
'Lunged'
In another incident in 2007, Mr Ege called an ambulance to his home after he had allegedly assaulted his wife, the jury was told.
Paramedics left the scene when he became too aggressive towards them and called in the police who attended the couple's home, the court heard.
Mr Ege dismissed claims he had "punched her in the mouth", describing what she suffered as a "nick" on the lip from his arm and a punch to the chest, both caused unwittingly when she "lunged at him during an argument".
Peter Murphy QC, for Mrs Ege, said Mr Ege was so unsupportive when his wife had cancer, on one occasion she rang begging him to come home to help out.
"Your mother came round 'to give Sara a hard time' because she had begged for help. You did not lift a finger," he said.
Mr Ege insisted he had been supportive.
"I looked after her. I helped her through the most difficult time, that woman...I looked after, I supported that woman," he said.
The death of the couple's son at home in Cardiff was treated as a tragic accident when it happened in July 2010.
'Unsympathetic'
Both were arrested when a post-mortem examination revealed he had suffered broken ribs, a fractured arm and finger and serious abdominal injuries.
Sara Ege claims her husband is the real killer, and has said his brother Nasser then burned the body, with help from his mother.
The couple set up home in Cardiff after an arranged marriage was put together by both their families in just five days.
The court heard allegations that Mr Ege locked up his wife and forbade her to go out almost as soon as he brought her back from India.
Mr Murphy said Mr Ege's family was hostile towards his wife from the beginning and unsympathetic when it appeared she could not have children after a series of miscarriages.
"I am suggesting that far from being supportive it was being suggested by your mother that you should divorce her and take another wife," he said.
"That is nonsense," said Mr Ege, who claimed his wife had invented the allegations against him since her arrest.
'Totally unaware'
Mr Murphy also alleged that Mr Ege was violent towards his son and hit him on slight or no provocation, which he denied.
Earlier, Mr Ege answered questions from his own barrister, Peter Birkitt QC.
One regarded his wife's physical punishment of Yaseen, to which he said he had never seen her do more than raise her voice to him.
He added that he was totally unaware that Yaseen had suffered any physical violence at all.
"How did you feel when these historic injuries were told to you by the police after the post-mortem?" Mr Birkitt asked.
"I was shocked, very shocked," Mr Ege answered.
The trial, scheduled for five weeks, was adjourned until Thursday.