Cardiff City FC confirm rebranding with new red shirts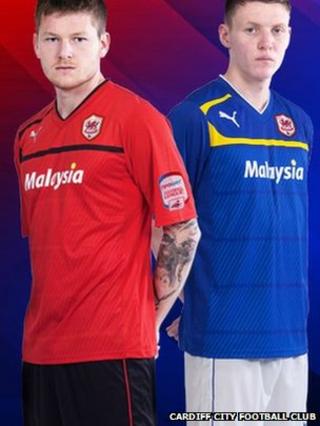 Cardiff City FC have confirmed they will change their shirts from blue to red with a new dragon crest as part of "major and significant" investment.
The move follows fresh discussions between club directors and Malaysian investors Tan Sri Vincent Tan and Dato Chan Tien Ghee, known as TG.
Chief executive Alan Whiteley said it was designed to help the club - known as the Bluebirds - expand their appeal.
When the rebranding was leaked in May it led to an impassioned debate.
The new investment package will also allow the club to resolve its longstanding debt with the Langston company, it revealed.
It followed "a comprehensive review" of supporter feedback, the club said.
Until now, City have always played in a blue home strip with a bluebird crest.
Some supporters still opposed the changes, but others argue that the club should accept change to help secure major funding.
The plans had appeared to have been dropped amid the controversy, but the club confirmed the rebranding would go ahead in a statement released on Wednesday morning confirming details of the investment package.
The changes would be introduced "with a view to exploiting and maximising its brand and commercial revenues in international markets, which it is hoped in turn will bring success to the club locally, whilst also attracting new partners and investors."
The statement continued: "As part of this commitment, funds have been earmarked to finally resolve the historical Langston debt issue which for so long has cast a dark cloud over the club and its future.
"Negotiations have been continuing and a final offer has been made to those representing Langston and [former club owner] Sam Hammam which we believe is both fair and reasonable."
The club plan to invest in a new training ground and facilities, and will look into the feasibility of expanding the stadium.
"Our investors have also fully reaffirmed their support to enable [club manager] Malky Mackay to strengthen his squad for the season ahead in line with the viable and prudent budgets agreed with him," it said.
"This is a major and significant financial commitment and we are grateful to our investors for their continued confidence in this football club," said Mr Whiteley.
"In recent years the support and commitment from our Malaysian investors has given the club a much-needed stability that has allowed us to move forward and away from the brink of administration, whilst allowing the club to challenge at the highest levels of the Championship."
Mr Whiteley said structured investment in the team, stadium and infrastructure would help achieve and sustain Premier League football.
Mr Whiteley said: "We recognise that there is a history and commitment that goes with supporting Cardiff City and we are conscious and proud of the loyalty, bond and passion so many share for this club.
"At the same time, we also have to be prepared to be realistic and progressive.
"Sometimes in difficult economic times and challenging market conditions, in order to attract investment to survive and progress, brave, bold and compelling decisions and sacrifices need to be taken and made.
"By securing this investment we can safeguard the immediate and long-term future of this club."
Mr Whiteley said he believed the changes would be accepted by the vast majority of supporters.
He said it was "not a decision that has been taken lightly or without a great deal of thought and debate" and the board would "do their utmost to uphold, protect and promote the values and virtues which the club stands for."
'Exciting times ahead'
Club chairman TG said the investment "should promise exciting times ahead for Cardiff City".
"I am very grateful in particular to Tan Sri Vincent Tan for making this possible and for his continued commitment and support," he said.
"I know and understand that there have been reservations in certain quarters over the changes accompanying the investment, but sincerely hope that all of our loyal fans will come to accept the changes in the spirit in which they are made and continue with their passionate and fantastic support.
"This club will always be Cardiff City Football Club and its name and heart will never change nor are any of the changes meant to destroy any part of its history or culture."
He said the rebrand created "a symbolic fusion with Asia which will allow us to fly the Welsh flag on behalf of Cardiff wherever we go".
The move has prompted both support and anger among the club's fan base.
Gwyn Davies, of the Valley Rams Supporters Club, accepted the change, saying: "People have calmed down and had a think about it".
"None of us want to change to red," said Mr Davies. "It's something we'll accept willingly because of the price that goes with it, and the benefits that will go with it."
But another fan, Dan Buckley, tweeted: "I loved this football club. Truly loved it from the bottom of my heart. Words can't describe how gutted I am. Sickened".
Cardiff City Supporters' Trust said it would ask its members whether or not they support the re-branding, which it described as "radical proposals from the club".