Valleys Here challenge to new MTV reality show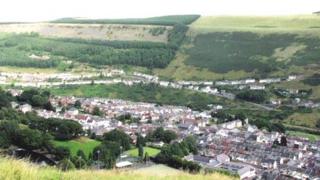 As MTV films a new reality show based in the south Wales valleys, local campaigners say they fear the programme will paint the area in a bad light.
Organisers of the online Valleys Are Here group are urging the public to spread positive news instead.
MTV, whose Newcastle-based Geordie Shore attracted some criticism, says The Valleys will be irreverent and funny, as well as warm and genuine.
Campaigners have asked valley admirers to say what they like about the area.
"We don't want to be seen as killjoys," said the Valleys Are Here co-founder, Alex Bevan.
"We are not trying to shut anything down, we are just trying to test MTV to their word."
The TV company announced in March that it was planning to produce its six-week show, The Valleys.
It stated: "MTV will be heading deep into the south Wales valleys to find a group of young people from areas such as Tonyrefail and Tonypandy to feature in its next non-scripted show.
'Get involved'
"Plucked from the tranquillity of valley life, the cast will be given the opportunity to leave their hamlet towns and change their lives in the city of Cardiff."
The TV firm said the series follows on from its previous unscripted, and heavily edited, reality show Geordie Shore.
But that series drew criticism from some quarters, including the Newcastle Central MP Chi Onwurah said it was "bordering on pornographic".
MTV has said its south Wales programme will be "irreverent and funny, as well as warm, authentic, familiar and genuine."
"It's not going to be," said Mr Bevan.
"They talk about 'we'll pluck them from the tranquillity of valley life' and take them to the bright city.
"There is a ridiculously close link between these two communities and it's bizarre the way they talk about this.
"The area is much maligned in the national press - we all know that. We are worried that what will happen is the same as in Newcastle.
"So we are asking people to get involved. If there is someone or something you love about the place, that does the place proud, you can get to us through the website."