Cardiff shopping centre escalator work man injured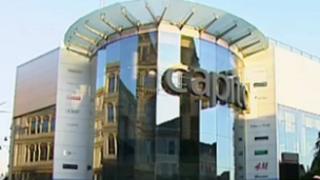 A contractor injured during works at a Cardiff shopping centre has been released from hospital.
Firefighters were called to the Capitol in Queen Street just before 20:00 BST on Wednesday.
The man's legs became trapped while he was carrying out work to remove the escalator. South Wales Fire and Rescue took two hours to free him.
He was taken to hospital but released later the same evening. He is expected to return to work in the next few days.
Jeff Wilson, shopping centre manager, said: "We can confirm that a contractor working at the Capitol shopping centre in Cardiff suffered minor injuries on Wednesday evening during works being undertaken at the centre to remove the escalator in the mall.
"As a precaution, the contractor was taken to hospital for observation but has since been released."