Giant ribbon stunt at Park House restaurant 'illegal'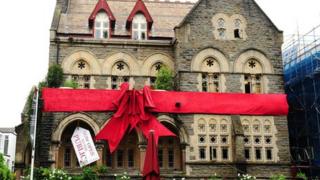 A businessman who wrapped a giant red ribbon around his restaurant has been told to remove it by council officials.
Adam Pledger, 34, put up the 19m (65ft) red bow on the listed building to attract customers to the Park House in Cardiff city centre.
He said the Grade 1 listed property had not been damaged.
But Cardiff council said any alterations required listed building consent, and failure to remove it could lead to legal action.
Mr Pledger said: "It's just a pretty red ribbon to brighten up the restaurant during these difficult times.
"It was not meant to stay up there permanently, just to give us a bit of a boost. The council should be there to help businesses, not hinder them.
"They should be standing aside and letting businesses get on with it instead of this red tape and bureaucracy."
Mr Pledger said the ribbon had not damaged the Grade 1 listed building, designed by renowned Victorian architect William Burges in 1874.
But Cardiff council said: "Park House is a Grade 1 listed building designed by one of the greatest of the Victorian-art architects, William Burges.
"It was listed for its historic and architectural value in 1966 and is probably one of the most important 19th century houses in Wales.
"Any alterations require listed-building consent and where the appropriate consent has not been granted the alterations are deemed illegal."
The council said it was "assured" by Mr Pledger the ribbon would be taken down at a meeting last month.
"During the meeting the owner of Park House was made aware that failure to remove the ribbon could result in legal action," she added.