Yaseen Ali Ege murder: Evidence that 'mother killed son'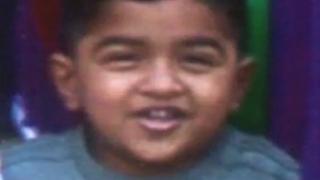 There is compelling evidence showing that a seven-year-old boy was killed by his mother, a jury has been told.
Ian Murphy, prosecuting, in his closing speech said Sara Ege, 32, made detailed confessions to police about the death in Cardiff over a number of days.
He said she had given "an outpouring" about "her anger and loss of control".
Mrs Ege denies murdering Yaseen. Her husband Yousuf, 38, denies causing his death by failing to protect him. The case at Cardiff Crown Court continues.
Mrs Ege is accused of beating her son "like a dog" with a stick.
The court has heard that the beatings were so brutal that he died from his injuries and his body was burned to destroy the evidence.
Mr Murphy said: "No Oscar-winning actress could put on a performance like that over three days."
He said Mrs Ege was driven by a desire for Yaseen to memorise the Koran.
"Nothing could have been more important," he added.
But Mr Murphy said Mrs Ege became increasingly frustrated at his lack of progress.
At the time of his death, Yaseen was at the end of a three-month trial period of memorising, and the jury heard Mrs Ege was under pressure for her son to be perfect.
He said she became violent towards her son on numerous occasions.
Mr Murphy reminded jurors of a pathologist's evidence, indicating Yaseen had "a constellation of injuries " on his body dating back to at least a month before his death.
He said there were six fractures in total, including fractured ribs.
There were also a number of soft tissue injuries, bruising to his scalp, the ridge on his brow and ulceration to his tongue and inside cheek, Mr Murphy said.
Broken ribs
The prosecution said on the day Yaseen died he suffered three severe blows to his abdomen, and there were other blows to his body.
The death of the couple's son at home in Pontcanna, Cardiff, was treated as a tragic accident when it happened in July 2010.
Both were arrested when a post-mortem examination revealed Yaseen had suffered broken ribs, a fractured arm and finger and serious abdominal injuries.
Mrs Ege has claimed that her husband is the real killer, and has said his brother Nasser then burned the body, with help from his mother.
The couple set up home in Cardiff after an arranged marriage was put together by both their families in just five days.
The prosecution has said that there was no way Mr Ege did not know about his son's suffering.
Mr Murphy told jurors that Mr Ege failed to take the necessary steps to protect his son. "He turned a blind eye," he said.
The trial continues.