Cardiff Catholic cathedral brass theft shocks worshippers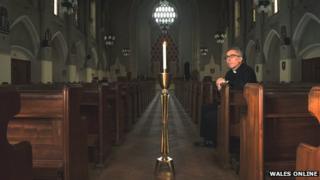 Police are hunting thieves who stole brass candlesticks and other items from Cardiff's Roman Catholic cathedral.
The stolen items had been paid for and donated by worshippers to mark the re-opening of St David's Metropolitan Cathedral in 1959.
The city centre building had been badly damaged by German bombers in 1941.
Canon Peter Collins, dean of the cathedral, said: "The congregation are terribly upset. The candlesticks are part of a set and are irreplaceable."
"When people hear about what has happened they are lost for words," he added.
"We are all shocked and horrified that this has taken place."
The missing items include a large floor-based brass candlestick and a smaller altar candlestick, both from sets of six donated following World War II.
A brass flower stand engraved as being donated by the Union of Catholic Mothers in 1959 was also taken.
Police say the mementos were stolen from the premises in Charles Street some time between 22 and 29 May.
Anyone with information about the burglary or the whereabouts of the stolen items is asked to contact South Wales Police or Crimestoppers.