Yaseen Ali Ege murder: Mother 'forced to make admissions'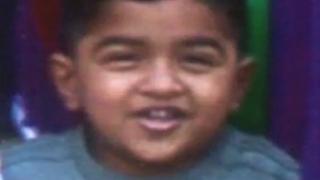 A mother accused of killing her seven-year-old son was threatened into making admissions to police, a jury has heard.
Peter Murphy QC, for Sara Ege, said in his closing speech there was no dispute about her son's injuries, but they were inflicted by her husband, Yousuf Ege.
Starting his closing speech at Cardiff Crown Court, Peter Birkitt QC, for Mr Ege, said her confession was compelling
Mrs Ege denies murdering Yaseen. Mr Ege denies causing his death by failing to protect him. The case continues.
The court has heard that the beatings were so brutal that Yaseen died from his injuries. His body was burned to destroy the evidence.
Mrs Ege is accused of making detailed confessions to police about the death in Cardiff over a number of days, and that she was driven by a desire for Yaseen to memorise the Koran.
But Mr Murphy told the court Mrs Ege had been threatened into making admissions.
He said the defendant's brother-in-law had called the police and claimed that Mrs Ege had told him Yaseen had fainted, had soiled himself and that she had cleaned him up.
Mr Murphy said she thought the boy had died and so set fire to his body.
Mrs Ege's brother-in-law said he had a voice recorder to show police, but it did not have a recording on it, the court heard.
"Why was there a recording device?" said Mr Murphy.
He said Mrs Ege believed there was a recording of the conversation and she thought she had no choice but to go through with the forced confession.
'Sustained abuse'
"She (Mrs Ege) was threatened and intimidated into making admissions to police, he said.
Mr Murphy said she only later found the strength to tell the truth, and that her account came out in bits.
He also told jurors that Mrs Ege was the subject of "sustained and ongoing abuse".
Mr Murphy listed a catalogue of medical visits over more than seven years, and mentioned medical notes where doctors noted her history of domestic violence.
He claimed it was Mr Ege who put pressure on his son to memorise the Koran having arranged lessons for him with an Imam, who the boy's mother had never met.
The barrister said there was no dispute about Yaseen's injuries, but said it was Mr Ege who inflicted them.
Starting his closing speech, Mr Birkitt for Mr Ege said Mrs Ege's confession was most compelling.
"Could there have been a more compelling confession ever?" he said.
Mr Birkitt described her confession as an "outpouring of someone who had a terrible sense of guilt. She was unburdening herself of a terrible secret."
Mr Birkitt will finish his closing speech on Wednesday.
The prosecution said on the day Yaseen died he suffered three severe blows to his abdomen, and there were other blows to his body.
The death of the couple's son at home in Pontcanna, Cardiff, was treated as a tragic accident when it happened in July 2010.
The trial continues.