Yaseen Ali Ege murder: Father 'did not know of abuse'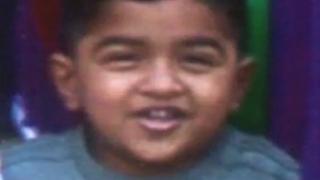 A father did not know his wife had been beating their son for months, a murder trial in Cardiff has heard.
Yousuf Ege, 38, denies causing the death of his son Yaseen Ali Ege, seven, by failing to protect him.
Sara Ege, 32, Yaseen's mother, denies his murder at their home in Pontcanna, Cardiff, in July 2010.
Peter Burkitt QC, defending Mr Ege, said there was no evidence anyone else had picked up on what was happening to the boy. The case continues.
Summing up in his closing speech, the barrister told the court that during four months of abuse, neither Yaseen's teachers at school, nor his Koran teacher or imam had noticed what was going on.
Outlining these events, Mr Burkitt told the court that teachers at Yaseen's school were aware of problems with the boy's leg, as it had been broken in 2006.
He said that on 5 May 2010, Yaseen's form teacher reported trouble with the boy's leg. Yaseen had asked her not to tell his mother.
Mr Burkitt said: "What you think might be revealing."
He said that Yaseen was then moved to another school, and teachers there were told of a problem with the leg.
'Suffered in silence'
One teacher had called Sara Ege and said a visit to the doctor might be an idea.
Another time, Mr Burkitt said, Yaseen had been struck by a ruler and was unable to write, but the boy never complained.
He said: "All these teachers assumed she was a devoted mother. Until all these dreadful events, she was."
Mr Burkitt told the jury that people at the school had specific training on what to look out for, trained to look for causes of concern.
He said: "No one ever did."
The reason for that, he told the court, was that Yaseen never complained.
Mr Burkitt said: "That was the nature of this little boy. He suffered in silence."
The jury heard that the school never contacted Mr Ege with concerns about his son, only Mrs Ege, whom they trusted.
The court heard Mr Ege worked long hours as a taxi driver, and only saw Yaseen for a moment or two during the day as he drove him to school and back, and then on weekends.
Mr Burkitt said: "He'd be out of the house for large tracts of time."
The jury were told the couple shared a bed only from time to time, because of renovations on the house.
'Terrible decision'
They heard that the violence against the defendant's son happened when Mr Ege was not there.
Mr Burkitt concluded that an otherwise decent and dedicated mother went through a period of crisis and could not control her anger.
The jury was told that there was a bond between the boy and his father, who would have intervened had he known of his suffering.
"She kept it from everybody, she kept it from Yousuf," said Mr Burkitt.
He told the jury: "You have a terrible decision to make."
The judge has started summing up. The case continues.