Yaseen Ali Ege murder: Judge sums up trial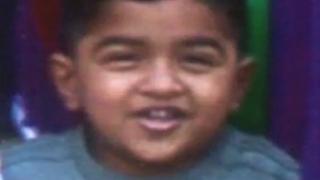 A judge has started summing up in the case of a mother accused of beating her young son to death in Cardiff.
Sara Ege, 32, denies murdering Yaseen Ali Ege, seven, at their home in Pontcanna, in July 2010.
The boy's father Yousuf Ege, 38, denies causing the death of his son by failing to protect him.
The judge, Mr Justice Royce, showed the jury at Cardiff Crown Court a police interview video in which Mrs Ege confesses to beating Yaseen.
Sara Ege is accused of hitting her son "like a dog" with a stick, driven by a desire for him to memorise the Koran.
The court has heard that the beatings were so brutal that he died from his injuries and his body was burned to destroy the evidence.
In the police video, Mrs Ege said: "I used to hit Yaseen."
She said she heard a voice telling her: "Why are you stopping Sara, go back and hit him more."
She said in the video that Yaseen wasn't memorising the Koran to her satisfaction and that she couldn't control her anger.
But she said that "he never used to do anything". She said she didn't know what was wrong with her, adding: "I used to hate myself."
Mrs Ege said that when she was upset, Yaseen would come to her and say: "You're doing it for my good, you're doing it for my good...."
She said during three months she wanted him to learn the Koran but said it took him three months to memorise one chapter - 30 to 35 pages all together.
She said he had asked for a bike if he succeeded to memorise the Koran.
"It's just too much force on me," she said, "too much force on Yaseen."
She said she had taken an oath three times.
"I said to Allah, I won't do it ever again," she said on the video.
"It only lasted three to four days. I lost control, I broke it. I repented so much. I took another oath. In only a couple of days I broke that."
'Play acting'
The judge said it was up to the jury to decide whether the excerpt showed a woman "pouring her heart out", as the prosecution say, or "play acting in a way that might win her an Oscar", as her defence claim.
The jury were reminded that it was not until December 2010 that she changed her story to say she was threatened by her husband and his family, and told to take the blame.
The judge also reminded the jury that Mrs Ege had not only confessed to the police, but to her doctor, Dr Sian Roberts, and to doctors and nurses at Whitchurch hospital in Cardiff.
Regarding the case against Yousuf Ege, the judge told the court the father worked long shifts, and had not been expected to learn the Koran as a child and was not responsible for Yaseen's education.
Mr Ege had said he had no idea Yaseen had been beaten by his wife over a number of months, the court was told.
Mr Justice Royce added that when he was told Yaseen had died Mr Ege had looked devastated and did not want to tell his wife, because he had been worried she would not be strong enough after having cancer.
The judge is due to resume summing up on Thursday.