Armed Forces Day flag flown at Cardiff Castle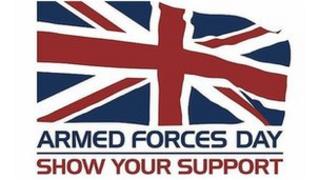 A flag-raising ceremony has been held at Cardiff Castle to honour service personnel.
Monday's event was part of a UK initiative to fly the Armed Forces Day flag in the run-up to Armed Forces Day.
Veterans, cadets and members of the armed forces will take part in a ceremony to commemorate servicemen and women past and present.
On 30 June, a series of events will be held in Cardiff, including a city centre parade.
Cardiff council's vice-chairman, Keith Jones, hosted Monday's event, said: "Armed Forces Day helps the nation to show its support for the men and women who are currently serving in the armed forces and those who have served our country.
"We owe them a debt of gratitude and Cardiff is proud to be joining cities, towns and villages across the UK in raising the Armed Forces Day flag at Cardiff Castle to signify our continued support for all they do."
Commemorating the 60th anniversary of the Korean War and the 30th anniversary of the Falklands conflict are the focus of Armed Forces Day 2012.