Cardiff rail commute top - Campaign for Better Transport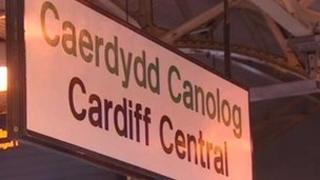 Train services in Cardiff are among the most affordable in the UK, with the least overcrowding and one of the most punctual, research has claimed.
Figures have been released by the Campaign for Better Transport to coincide with the final week of UK government consultation on rail fares.
Cardiff topped two categories: lack of overcrowding and affordability, and was third in punctuality.
Newcastle came second overall, and Manchester was the worst of 11 cities.
London was bottom for overcrowding, Sheffield for affordability and Bristol punctuality.
CBT campaigns director Richard Hebditch said: "Surveys show that affordability is the most important issue for passengers, even more than punctuality or overcrowding, and our list shows just how much it affects their experience of rail travel.
"While passengers in Cardiff and Newcastle are likely to be happy with their commute, they may not be so happy if the cost of their season ticket starts to rise to levels seen elsewhere in the country, something we know the government is seriously considering.
According to the figures, 7.2% of services in Cardiff arriving between 7am and 9.59am suffer from overcrowding.
Nottingham is second with 8.8%, compared to 49.1% of services in Leeds overcrowded between those times and 50.3% in London.
The average cost for a season ticket from a station between 10 and 19 miles away from Cardiff is £1,052.67, slightly cheaper than Newcastle, while Sheffield is considered the least affordable.
'Rolling stock'
Nottingham came out on top of punctuality with 88% of passengers satisfied with services, Sheffield second also 88% and Cardiff third with 86%, according to the National Passenger Survey by Passenger Focus in 2011 .
The rest of the cities also scored above 80%, except Bristol with only 62%.
"Cardiff isn't too bad," Mr Hebditch told BBC Wales. "Certainly things could improve in terms of the rolling stock, electrification and things like that in south Wales.
"But the situation isn't as bad as in other parts of the country.
"Price is the one thing that really matters to people and that's the one thing that's going in the wrong direction."
He added: "I think one of the key things is whether people get a seat or not.
"If you are buying a season ticket, you will at least get a seat for that price and that is the one thing people really do complain about."