Call to develop Cardiff Airport as regional hub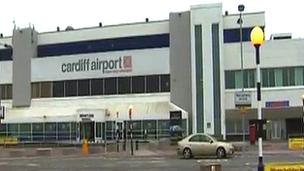 Cardiff Airport has an important role in developing short-haul flights to Europe, says an aviation expert, as a call is made for regional airports to ease the strain on London Heathrow.
The comments come as Birmingham Airport urges the UK government to develop regional airports.
UK ministers will set out their thinking in consultation this summer.
Cardiff has said it is working to build on the success of attracting three new carriers over the past year.
These are: Helvetic, operating flights to Zurich, Vueling, operating flights to Barcelona, Palma and Alicante, and Cosmos operating flights to Orlando.
Air industry consultant Laurie Price said: "Cardiff has got an important part to play in Wales.
"It has had a good network of services in the past. It's obviously working on trying to rebuild that," he told BBC Radio Wales.
His comments come as a report by Birmingham Airport chief executive Paul Kehoe said new, smaller planes that could fly further meant passengers did not need to transfer via big hubs such as Heathrow as often.
Heathrow owner BAA is launching a new campaign to get permission to build a third runway at the London airport.
Mr Price said: "Cardiff can play an important role serving the regional market, particularly short-haul into Europe."
First Minister Carwyn Jones has previously called on the owners of Cardiff Airport to invest in its future or put it up for sale.
In May, Mr Jones said he had been in talks with potential buyers interested in a public-private partnership with the Welsh government taking a stake.
The airport's Spanish owner has said it has no plans to sell, but would be open to offers.
Related Internet Links
The BBC is not responsible for the content of external sites.