Woman's 'limbo' after dog Sophie found with new owners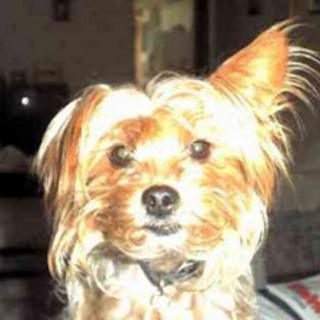 A woman who found her dog after nine years says she has been left "in limbo" because the new owners will not let her see her again.
Eileen Jones, of Porth, Rhondda, launched an animal re-homing charity after the Yorkshire Terrier ran off in 2003.
Sophie is now called Scruffy but her owners will not permit a visit.
The Dogs Trust has now changed its procedures after Sophie's microchip was not checked.
Ms Jones, 59, said she was desperate after Sophie jumped the garden fence in August 2003 of her then home in Ynyshir and disappeared.
She put up posters and leaflets in neighbouring areas and used sheets for banners in streets in a number of south Wales valleys towns.
Her efforts to trace her pet led to her doing animal rescue work of her own, eventually setting up her own organisation, Friends of the Animals RCT, with its own 24-hour hotline.
Ms Jones, who also works for a children's charity, funded the operation herself.
She even used a photo of Sophie on the charity's literature, with the message "a legacy to Sophie".
She admitted her animal work was in the hope that Sophie would be one of the dogs rescued.
This month Ms Jones found herself fostering two Yorkshire Terriers, which prompted her to phone the database firm which had a record of Sophie's microchip details.
She then discovered Sophie had been handed in as a stray to the Dogs Trust some years ago.
Staff had reported that the dog had a microchip but no check was made with the database firm.
The dog was re-homed in 2006.
Ms Jones said she was "absolutely devastated" after the dog's new owners declined her request to see the animal.
She said: "I have sent them a letter and poured my heart out, really. I've told them all the things I've done because of Sophie.
"I'm a bit in limbo now. I need to see my dog and have to wait until someone is willing to allow that to happen.
"I can't just "carry on". It's been nine years worrying and wondering about my dog.
"Really, it's about closure. Then I can move on, knowing that she is as well loved as I loved her."
The Dogs Trust said its procedures have been changed.
It said: "Yorkshire terrier, Sophie, was handed over to Dogs Trust Bridgend in 2005 by a gentleman, on behalf of his parents in law, who informed us that the family had acquired her as a stray.
"With regret, Dogs Trust can confirm that at the time when the handover took place, we were unable to identify the dog as being reported missing.
"We are in touch with Eileen Jones regarding this matter to extend our sincerest sympathies.
"We would like to stress that it is Dogs Trust policy to scan every dog that comes into any one of our 18 rehoming centres."