Nicholas Lewis faces General Teaching Council for Wales panel over conduct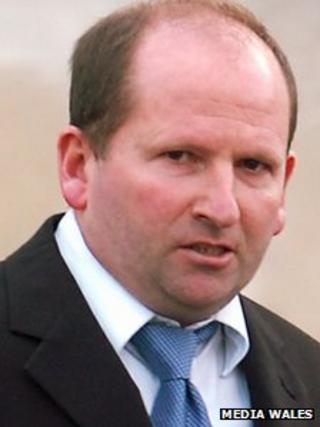 A professional misconduct panel has heard claims against a teacher, who was cleared of indecently assaulting pupils by a court.
Nicholas John Lewis denies indecent assault and inappropriate behaviour at the school and at a leisure centre.
The General Teaching Council for Wales (GTCW) panel was told pupils at the Cardiff primary school where Mr Lewis had worked reported his behaviour.
He denies inappropriate professional conduct and all charges against him.
A jury at Cardiff Crown Court had cleared him of indecent assault in February 2009.
The panel was told that pupils had reported that he put his hands down their trousers and inside shirts over a seven-year period.
Mr Lewis, who was not at Tuesday's GTCW hearing in Cardiff, was dismissed from the school following an disciplinary hearing in 2010.
Gwenno Hughes Marshall the presenting officer told the panel Mr Lewis started work at the school in 1997.
A year later, the head teacher Carolyn Evans had to speak to him about appropriate conduct after he lifted a pupil up to retrieve a ball.
In 2000, Mrs Evans was informed of an allegation that Mr Lewis had put his hand down the trousers of a boy. The family did not pursue any action and Mr Lewis was not suspended from school.
Ms Hughes Marshall said in 2008 two past pupils had made allegations against Mr Lewis to a music teacher at a Cardiff secondary school.
Fellow former pupils came forward with similar allegations of touching underneath clothes, the panel was told.
In June 2008, the police were also contacted by Fairwater Leisure Centre after a child told a centre assistant that Mr Lewis had pinched his bottom in the changing rooms.
Staff at the centre had been watching Mr Lewis for a six month period because of his unusual behaviour around children in the swimming pool, said Ms Hughes Marshall.
Mr Lewis was arrested and suspended from his job.
Colluding
A trial at Cardiff Crown Court in February 2009, related to the incident in school, cleared him of indecent assault.
Giving evidence, Mrs Evans, the headteacher, said of Mr Lewis "he was a good teacher and was popular with parents and pupils.
"However in 1998 I had to speak him about the boundary between teacher and pupil. I felt he was breaching accepted teacher pupil conduct."
The hearing was told one child, who was referred to as L, had alleged that during a school trip Mr Lewis had come to tuck him in when he could not sleep and had put his hand into his pyjama bottoms.
Mr Lewis said in statements that the children were colluding with one another. He also claimed staff at the leisure centre were in contact with parents and police prior to his arrest.
However an investigation carried out on behalf of the school found there was a "constant and consistent theme which came through the evidence" given by the children.
Chris Machin, a centre assistant at Fairwater Leisure Centre, told the panel he had become aware of Mr Lewis without knowing his identity after observing unusual behaviour from him for about six months in the run-up to July 2008.
"On several occasions I saw him swimming near the wall and if a young child came near he would duck under the water and watch the child from there.
"I had never seen any person behave like Mr Lewis."
He also said Mr Lewis would come to use the pool exclusively at weekends or in school holidays when children were more likely to be present.
He would go into an area only being used by children and their immediate guardians which had no room for ordinary swimming.
Procedure
His colleague Abigail Jenkins told the hearing she had observed Mr Lewis constantly moving close to a group of children.
"This man appeared to be deliberately barging into the boys and occasionally brushing among them. The man would swim lengths but then stand near the children and put his head under the water to watch them."
After seeing Mr Lewis apparently touch a child she approached the children and asked if he had touched them. She said they said no, but one child told her he had had his bottom pinched by Mr Lewis in the changing room on a previous occasion.
The panel also heard Mr Lewis had not followed school procedure when asking for a reference to take part in a social services befriending scheme in 2003, which pairs adults with children who need support.
He had asked the deputy head instead of Mrs Evans, which she believed may have been because she was aware of the allegation made against him three years previously.
The panel heard Mr Lewis had requested a child aged 8-10. When paired with a 12-year old boy Mr Lewis had only met him once before contacting the scheme organiser to request a transfer to a younger child aged 8-10.
Concerns were raised about this and he was removed from the scheme.
The panel has retired to consider its verdict.