£7m flood defence scheme in Newport completed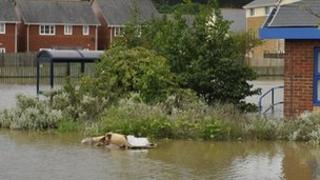 A £7m flood defence scheme to protect 420 properties in Riverside in Newport is to be officially opened.
Failing flood defences meant the homes and businesses previously had a one-in-two risk of flooding.
The scheme on the River Usk has been designed so that flood walls can be raised further in future.
Environment minister John Griffiths said the unveiling was especially poignant because of flooding in parts of Wales this month.
"It reminded us all just how devastating the effects of flooding can be," he said.
Hundreds of homes and businesses were damaged after torrential rain and overflowing rivers overwhelmed areas including Aberystwyth and nearby villages such as Talybont, Dol-y-Bont and Llandre earlier in June.
'Risk of flooding'
Some families affected have been warned they will have to leave their homes for up to six months.
Speaking before the official unveiling of the Newport scheme, Mr Griffiths said that one in six properties in Wales is at risk of flooding.
"Although we can never totally prevent flooding the Welsh government is committed to making Wales more resilient to this problem," he said.
The Riverside scheme is part of a £100m programme supported by almost £50m from the European Regional Development Fund.
Gareth O'Shea from the Environment Agency Wales thanked local people for their support during the 12 months of the flood defence construction.
"The work has taken place in some places very close to people's homes and gardens.
"(But) this is an important scheme for people living with the threat of flooding in Riverside, and it is the final link in protecting the east bank of Newport from the River Usk," he added.