M4 Brynglas second tunnel plan opponents rally support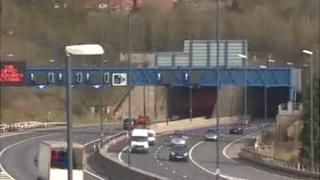 Opponents of proposals for a second set of tunnels at a notorious pinch-point on the M4 in south Wales are holding an advice session in Newport later.
Up to 300 homes and businesses could be affected if new tunnels are built at Brynglas, at a cost of £550m.
The idea is one of four options aimed at easing congestion, and gridlock when there is a major accident on the route.
Local Government Minister Carl Sargeant aims to make a decision by the end of the year.
The Campaign Against Additional Tunnel (Caat) surgery is at Christchurch Centre, Old Malpas Road, at 17:00 BST.
It is mainly to help residents fill out "complicated" forms opposing the idea.
It comes as the Welsh government's consultation on the options available to smooth traffic flow on motorway around Newport ends this week.
Other options include a new dual carriageway to the south of Newport and junction improvements on the A48 southern distributor road.
A series of exhibitions have been held around the city since the consultation began in March.
Caat was formed by residents and businesses opposed to the proposal to bore two new tunnels at Brynglas, where the motorway is reduced to two lanes.
The original tunnels were built in the early 1960s.
The suggested new tunnels would allow the motorway to be expanded to four lanes in each direction between junctions 24 to 29 over 15 years.
Homes, a fire station and a hotel might have to make way, if this went ahead.
In a statement in May, Caat said the tunnels scheme would need at least 150 homes to be demolished and "blight people's lives for years and bring little or no extra resilience to the M4".
It described public consultation as "flawed" despite being extended from last month to the end of this week.
'Mortgage'
The group added: "The fundamental issues that Caat strongly oppose, are the consequential impacts this proposal will have on our environment, plant species, wildlife, homes and community.
"It is understood, by Caat, that slip roads will be closed if this plan is implemented. This will increase congestion in our city and Newport will not benefit from this proposal."
Caat member Jonathan Clarke told BBC Radio Wales that there had been a shortage of information on the plans.
"Most people haven't heard anything about this," he said.
"When we dropped leaflets and organised a public meeting...it was full of people who were very concerned and very angry because this was the first they'd heard about it."
Mr Clarke said building new tunnels was not a workable option.
"You could have a 10-lane tunnel and if there's a crash it's going to be closed," he said.
"Building an extra tunnel will add no resilience to the existing motorway structure at all."
Some residents living close to the motorway still have questions about how they would fare if the tunnels scheme went ahead.
Malpas Road resident Lynda Pitman said: "It will be hard moving home and getting a mortgage but compared with what we are putting up with now it might be good thing for us.
"The road noise at night is getting a lot worse and when they are working on the motorway it's unbelievable.
'Views'
A Welsh government spokesperson said: "The M4 Corridor Enhancement Measures Programme is a strategic public consultation exercise to develop a strategy for addressing traffic problems on the M4 corridor in south east Wales.
"It seeks views on transport related problems, goals, public transport measures and four highway infrastructure options."
The consultation closes on 6 July.