Rhondda Life: Valleys regeneration scheme in receivership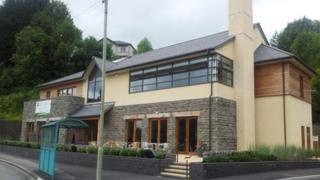 A social enterprise scheme set up to regenerate a south Wales valleys community has gone into receivership, the Welsh government has confirmed.
Rhondda Life, established in 2009, and its member organisations have received more than £1.8m government funding.
Only the first part of a three-phase development has been completed - the refurbishment of a former pub into a new HQ for Ferndale Rugby Club.
Plaid Cymru said it had asked the auditor general to investigate.
The first phase of the regeneration project, known as the Glynrhedyn building, contains a bar and restaurant community rooms and offices, and a lounge named in honour of local hero, actor Sir Stanley Baker.
The building opened in May 2011 and in May this year won a Royal Institute of Chartered Surveyors (Rics) Wales annual "property Oscar".
It is currently open for business.
The second phase involved developing a museum of Welsh sport and auditorium, with the third being a hotel.
Ms Wood said: "The news of the possible demise of the Rhondda Life project in Ferndale is a sad day for the area.
"Ferndale desperately needs projects which are successful, which create jobs, which will breathe new life into the area."
Ms Wood said people had held out hope for a project which promised to regenerate the local community as well as create jobs and attract investment.
'Lessons'
"Given that £1.8m worth of money has gone into this project, there should be an inquiry into its management and governance so that lessons can be learnt," she said.
"This is why I have asked the Auditor General for Wales to begin an immediate investigation.
"Places like Ferndale shouldn't have to put up with more failure. It's an all too familiar story and it has to stop."
But Rhondda AM Leighton Andrews said Ms Wood was "talking down" the area.
Writing on his website, Mr Andrews said: "I am sure lessons can be learned as to how the project has been implemented."
He added: "What is really needed now is a constructive approach to preserve the asset for the community and ensure the continued trading of the Glynrhedyn building, with, I hope, Rhondda Life continuing to develop projects that provide community benefit.
"What the Rhondda doesn't need is negativity and sniping for short-term political gain."
Mr Andrews said he had visited the Glynrhedyn centre on several occasions, and had taken WRU chief executive Roger Lewis there to discuss the potential future phases.
"The project needs stabilising and its future underpinning for the long-term benefit of the community," he said.
'Issues'
The Welsh government said it had been aware of difficulties at Rhondda Life "for some time".
"[We] are working with the organisation to attempt to secure a long term future and to identify and address issues that have been affecting the viability of the company," a spokesperson said.
"However, we are aware that Rhondda Life Ltd has been placed into receivership and are currently working with the organisation to understand the full implications of this."
Rhondda Life Ltd has given employment training to 24 people and employed 14, with the potential to create up to 35 jobs.