Cardiff swan deaths blamed on 'disease'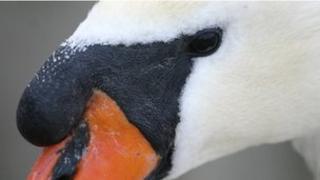 The death of almost one in five of Cardiff's swans over the past few weeks is suspected to have been caused by a naturally occurring bird disease.
The number of deaths now stands at 37, mainly from the Roath Park and Cardiff Bay areas.
Cardiff council said it was thought the swans were killed by a "natural disease of water birds" which occurs occasionally in the UK.
Anyone coming across dead birds is asked to contact the council.
Animal health officials have been investigating the deaths, which have taken place over a three-week period among the city's swan population of 200.
Cabinet member for environment, Ashley Govier, said: "The death of these special birds is a very sad occurrence.
"Ongoing investigations are being carried out by the Animal Health and Veterinary Laboratories Agency disease of wildlife scheme, following the 37 dead swans which have been found in Cardiff.
Human health
"Tests results to date are negative in terms of threat to human health and there is a strong suspicion that the swans were killed by a natural disease of waterbirds which unfortunately occurs occasionally across the UK.
"It is hoped these suspicions will be confirmed in the next couple of days."
Bird flu has not been diagnosed.
The public have been advised not to touch a dead bird with bare hands.
Disposable protective gloves should be worn if possible when picking up and handling them.