Tony Singh: Two jailed for drug dealer manslaughter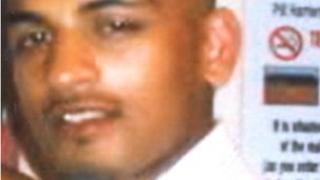 Two men who killed a drug dealer after being sold gravy granules instead of heroin have both been jailed for 10 years.
Karl Drummond, 37, and Shahid Rafiq, 37, both of Caerphilly, paid £100 for the drugs, but realised later they had been duped, Cardiff Crown Court heard.
The men went to another dealer, Tony Singh, 24, from Newport, hitting him on the head with a metal bar.
Drummond and Rafiq admitted the manslaughter of Mr Singh.
Mr Singh, who died from head injuries, was found in his flat in Bryngwyn Road, Newport, on 15 November, 2010.
The defendants gave conflicting evidence on who hit him and how many times, but the court heard he was struck on the head at least twice.
The court heard how the killing of Mr Singh took place after Drummond and Rafig had been conned by another dealer.
Paul Lewis, prosecuting, said: "The men met the dealer and handed over £100 for a package before returning home.
"It was then they realised they had been ripped off."
The court heard that Drummond and Rafiq had no money or drugs, so arranged a meeting with Mr Singh.
"Mr Singh was hit on the head with a metal bar at least twice," added Mr Lewis.
"As he lay defenceless on the ground he was searched and robbed of property including cash and a mobile phone.
"He remained conscious long enough to get back to his flat where he collapsed and died from his injuries."
Judge John Curran told the pair they had been "strangers to the truth throughout this trial".
He added: "This is in my mind akin to a robbery as it involved use of a weapon, considerable use of force and stealing.
Retrial
"It is true Tony Singh was no stranger to the criminal justice system but that in no way makes him deserving of what happened to him."
A retrial was ordered in April after a jury trying Drummond and Rafiq were discharged at Cardiff Crown Court after failing to reach a verdict on charges of murder.
George Glover, 40, who was also accused of killing Mr Singh, was cleared of murder at the earlier trial.
All three were also cleared of conspiracy to rob Mr Singh.