Tonypandy house for auction with £4,000 guide price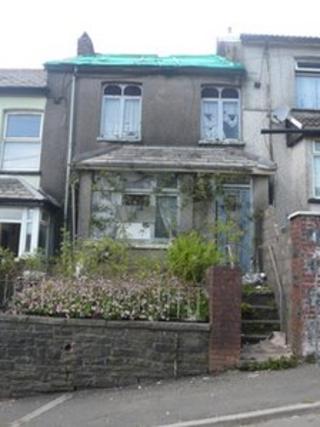 A terraced house in a south Wales valleys town has gone on the market - with a guide price of just £4,000.
The two-up, two-down home in Tonypandy in Rhondda Cynon Taff is in need of total refurbishment.
Auctioneer Paul Fosh said it was the cheapest house he had put up for sale for many years, but said it could be a shrewd investment.
One local estate agent estimated the buyers would need to spend around £20,000 to bring it up to date.
The traditional mid-terrace house in Oak Street has two reception rooms, kitchen, two bedrooms upstairs, a forecourt and an enclosed rear garden.
"It's fair to say that the house isn't in the best condition, however, at this price it could well be a shrewd investment," said Mr Fosh.
He added that he had not inspected the inside of the house but it was close to local amenities and good transport links including the train station.
"We're expecting to have a lot of interest in the property, with a guide price of £4,000 the cost of a second hand car, must surely be one of the cheapest houses currently on the market anywhere in Britain.
"It is certainly the cheapest house I have put up for auctions in many years."
Tonypandy estate agent Phillips Homes said the house could be resold for between £55,000 and £75,000 after it is refurbished.
"There are more desirable streets in Tonypandy to rent and sell, but after saying that houses around the corner from here can sell for around £100,000," said Jason Phillips from Phillips Homes.
"In fact we sold one just 20 yards (18m) from here recently for £123,000."
Mr Phillips said the street was mostly rental properties - and rents were around £425 per calendar month.
"I think this house will probably go for between £20,000 and £25,000 as there will be a lot of interest in it with the price being so low.
"The land itself is worth £15,000 but I think you could do full gut job on it for £20,000 and added to the initial outlay could make a profit."
The state of the house will make it unmortgageable, and it will probably be bought by a developer, he added.