London 2012: Cardiff Olympic football tickets cut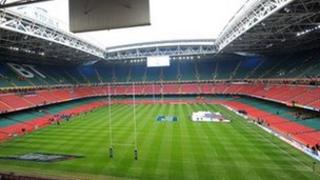 The number of tickets available for the first event of the 2012 Olympics - at Cardiff's Millennium Stadium - is being reduced from nearly 75,000 to 40,000.
The number was cut as organisers gave up trying to fill venues and withdrew half a million tickets across the UK.
Some parts of the Millennium Stadium - where the opening event will be played on 25 July - will not start being filled until others have.
Team GB's women will play New Zealand in the first match of the Games.
Organisers are also to reduce capacity at Hampden Park in Glasgow.
The Olympic Games begin with a round of football matches two days before the opening ceremony in London.
The Millennium Stadium said 33,000 tickets had been sold for 25 July, and overall 250,000 tickets.
London 2012 chairman Sebastian Coe suggested the shortfall in football ticket sales was to be expected.
"It's always a challenge; you've got lots of venues and lots of matches and you don't know until late on who is going to be playing," he said.
While tickets for footballing events are being cut, Olympics organisers say more contingency tickets will be made available for other sports.
In addition to 50,000 non-football tickets that have yet to be sold, 200,000 other tickets will be made available online this week.
BBC sports news correspondent James Pearce said it was a "fairly surprising revelation from London 2012" that so many tickets had yet to go on sale.
Games organiser Locog said more than 33,000 tickets had been sold so far for the opening day at the Millennium Stadium.
A Locog spokesman said there was plenty of time left, and with the ability to sell tickets up to kick-off "we are optimistic that this already pleasing attendance figure will continue to rise".
"Across the 11 matches at the Millennium Stadium we are at well over a quarter of a million tickets and counting for the eight event days.
"At least three days are set to sell out, and, with one of those games a double header, that means at least four matches should boast capacity crowds."