Blaenau Gwent schools: 'Considerable efforts' by staff and agencies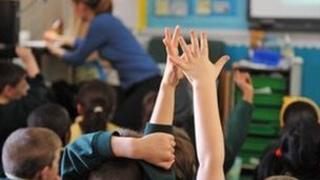 Attempts to improve education and children's services in Blaenau Gwent have been welcomed by Education Minister Leighton Andrews.
The local education authority was placed in special measures last July after a critical inspectors' report.
Mr Andrews then appointed commissioners to run the county's schools.
Following a review he said: "Although the direction of travel is broadly right, much important work remains to be done by the local authority."
Blaenau Gwent's local education authority became the first in Wales to go into special measures after a report found "systemic" management failures.
Schools inspectorate Estyn said it found children and young people in Blaenau Gwent "do not make good progress" and that standards were "well below what is expected".
'Important work'
In September Mr Andrews appointed two commissioners to oversee and direct a task force set up to run the county's schools.
The commissioners - former Treorchy comprehensive head teacher Bethan Guilfoyle and former Wrexham council chief executive Isobel Garner - have been providing the minister with monthly reports, and met him earlier in July to give an update on progress.
In a written statement on Wednesday, Mr Andrews said: "Although progress in Blaenau Gwent was initially slow across the range of recommendations, more recently the pace and focus of change have improved.
"There have been considerable efforts by staff at all levels and in partner agencies to make change happen.
"Although the direction of travel is broadly right, much important work remains to be done by the local authority if it is to secure sustainable capacity."
Estyn is scheduled to re-inspect Blaenau Gwent early in 2013, while the commissioners are due to remain in place until the end of March.
Blaenau Gwent Council said it was making progress in delivering a comprehensive plan of action to achieve improved literacy and numeracy for all learners in Blaenau Gwent, with the support of the education commissioners.
A spokesperson said: "School attendance is improving and provisional information indicates that outcomes at key stage 2 and 3 are improving.
"We are resolute in our determination to continue to do more and to ensure that the improvements are sustainable, and there are many exciting developments coming forward this year."
These included the opening of the multi-million Coleg Gwent post-16 education facility, the Blaenau Gwent Learning Zone, and a state-of-the-art 3-16 school, the council said.