Cardiff Met, Newport, Glamorgan University merger gets mixed reaction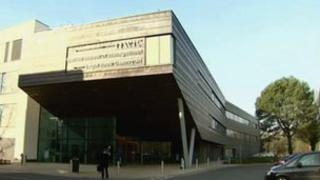 Plans by Education Minister Leighton Andrews to force a merger of three universities in south Wales have met a mixed reaction.
Newport has already agreed to merge with the University of Glamorgan, but Cardiff Met said it was "disappointed".
Unions representing students and lecturers have welcomed the merger as offering more choice and job security.
But Prof Brian Morgan at Cardiff Met said it would create a "supersized" and "unmanageable" university.
The announcement on Tuesday came a day after a report concluded that Newport and Cardiff Met could not survive if they did not merge.
Mr Andrews said he had noted the response of the Cardiff Met board to the planned merger of Newport and Glamorgan after it voted 13-1 in favour of staying independent.
The minister said the merger was likely to use the vehicle of the University of Glamorgan, making it necessary to dissolve the University of Wales Newport.
Matthew Waring, branch chair of the University and College Union representing staff at Cardiff Met, said they supported the merger plans despite the board's opposition.
"We have a real opportunity to create a new institution which would bring together the strengths of the three institutions and ultimately create much greater choice in the future for students and other stakeholders and create something quite distinctive in south east Wales," he said.
"It seems to us a little perverse that you've got three very similar size institutions doing very similar things in very close proximity.
'More of a risk'
"Surely it would make more sense to bring those three together, bring together the strengths and specialisms they've already got and allow those to work together in a new institution.
"We actually think the alternative is more of a risk for our members - the funding environment is becoming increasingly tight.
"We're very concerned for our members' jobs that Cardiff Met's plan to stand alone is incredible risky.
"We think there are far greater career opportunities and job security in a new institution."
Stephanie Lloyd, president of the National Union of Students (NUS) in Wales, also supported the merger as being good for students.
"We think it is a real opportunity - a way in which we can take the best of some very good universities and make them even better.
"We can ensure that money and time is really going into this if people go into this with a really positive attitude.
"We want to make sure that what is happening is in the best interests of students - that we're talking about access, job prospects, the student experience - stuff that students actually care about and not just what their institution is called.
"Why aren't we taking the fantastic practice that they have at Cardiff Met in certain areas and spreading it out across south east Wales?"
However, Brian Morgan, professor of entrepreneurship at Cardiff Met, said the merger risked diluting its achievements.
"What you have here is the best new university in Wales, well run, well led, a solvent university, being forced to merge with two other less successful universities without any rationale or business case being presented," he said.
"If the funding formula is going to emasculate smaller more successful universities then surely the solution is to change the funding formula.
"What we're going to have here is a supersized university, multi campus, multi site, which will be just unmanageable.
"There is no evidence that mergers are successful in this respect - in fact they really do dumb down standards."
Bob Bright, leader of Newport council, said he understood the rationale behind the mergers but added: "It is important that the university maintains its presence in the city centre and Caerleon and that its identity continues to reflect the city and area.
"Universities have tremendous economic and social importance where they are based and this can quite clearly be seen in Newport. We would want to ensure those benefits are kept and not swallowed up by a merger."