London 2012: Cardiff Olympic road closures concern traders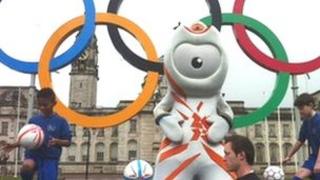 Business leaders are concerned about a loss of trade due to road closures during the Olympic football in Cardiff.
The Millennium Stadium is hosting 11 games, including two matches on the same day, with roads shut for up to eight hours.
Cardiff Retail Partnership said the Olympics was good for some businesses, but it feared shoppers would stay away.
Cardiff council said tens of thousands of people would visit the city on the eight days of football action.
The first match in the city, a women's game between Great Britain v New Zealand, is on Wednesday, 25 July and is the first event of the entire Olympics, two days before the opening ceremony in London.
It kicks off at 16:00 BST but road closures run from 13:30 BST and are in place for eight hours because another women's match, Cameroon v Brazil, follows it.
On days when there is just a single match taking place, roads will be closed for five-and-a-quarter hours.
Cardiff Retail Partnership spokesperson David Hughes-Lewis said: "I think the hotels are going to benefit greatly but whether the retailers will get a spin-off, I don't know.
"I'm afraid I think a lot of people [potential shoppers] aren't going to bother when they see all the road closures and the lack of car parking that's going to be available.
"I think it's going to impact on retail. We will see."
Cardiff council said London 2012 was an event that would provide the perfect opportunity to attract visitors to the city and showcase both Cardiff and Wales.
"During the eight days of football action at the Millennium Stadium, tens of thousands of people will come into the city centre, which will in turn benefit local businesses and boost the local economy," said a spokesperson.
"We are already hearing positive feedback from local retailers about the impact the games has had on their business before events have even started.
"A number of hotels have also reported that occupancy is up compared with the same time last year, with local hotels in Cardiff and the Vale benefiting from hosting Olympic teams who are training in the city."
Roads will be closed two-and-a-half hours before kick off and will remain in place until at least an hour after the game ends.
Roads that will be entirely closed are Duke Street, Castle Street, High Street, St Mary Street, Caroline Street, Wood Street, Central Square, Westgate Street, Quay Street, Guildhall Place, Golate, Park Street, Havelock Street and Scott Road. Others will be partially closed.
Park and ride will be available for the football and can be accessed by following signs from junction 33 of the M4.
Arriva Trains Wales says extra trains and more capacity will be provided for the football in Cardiff.