Enzo Calzaghe directs and stars in 'gritty' boxing film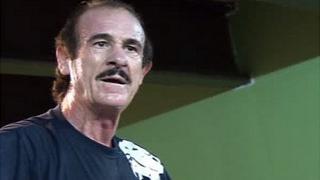 Boxing trainer Enzo Calzaghe has swapped the ring for the silver screen as he prepares for the premier of his first film.
The 63-year-old has directed and starred in Stitched Up, which is about a boxer caught up in a syndicate.
The low-budget film also stars his son, former world champion Joe Calzaghe, and reality TV regular Kerry Katona.
"You are going to see some dynamic action from them," he told BBC Wales.
The boxing trainer started making the film after his son, now 40, retired in 2009 after 46 fights undefeated, and 11 years as super-middleweight champion.
"I took a rest. I bought cameras and decided to make a film - it's all imagination," said Calzaghe Snr.
The trainer believed some people laughed at his idea but, despite that, he "cracked on and it went ahead" with it.
"This is exciting in some way. The film isn't bad for a first-timer," he said.
Calzaghe said the film is dark, gritty but has "hints of unique humour".
He plays the main character, a boxer who is supposed to be Italian, who becomes embroiled in the syndicate.
He said audiences are promised a "climatic ending".
And Calzaghe's debut film has received the seal of approval from his son.
"Joe said, 'Dad that was great' which is unusual for him," he said.
"It took so long to make because I'm a perfectionist. There is not one script, I just gave them the scene and let them do it naturally while I directed.
'Conquer'
"You are going to see some dynamic action from them. It will be interesting to see the reaction when people view it."
"I'm happy because I'm trying to conquer something to keep me active.
"Just because I get to a certain age doesn't mean I have an obligation to become an OAP or watch TV.
"People have to do things in life, being active is what is important. Sit down and you're dead."
Stitched Up was filmed over two years and included a trip to Sardinia.
Calzaghe helped his unbeaten son rule the super-middleweight division for 10 years before the Welshman stepped up to become the world's top light-heavyweight by beating Bernard Hopkins and Roy Jones Jr in the United States.