Man jailed after dog savages Erfan Ali, 6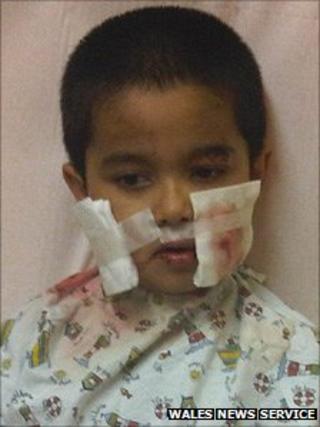 A man has been jailed after his dog attacked and seriously injured a six-year-old boy in Cardiff.
Kevin Large's dog leapt the fence and attacked neighbour Erfan Ali at his home in Gabalfa in September.
Cardiff council said the city's crown court heard how he was mauled as he helped his mother in the garden.
Large, 27, admitted failing to control the animal under the Dangerous Dogs Act and will serve two months in jail and two months community service.
The dog, thought to be a Rhodesian ridgeback, was destroyed following the attack.
'Catastrophic effect'
Following Large's conviction, Erfan's parents Monwara and Dilwar Ali issued a statement saying the family hoped to put the "traumatic experience" behind them.
"This attack has left our brave little son physically and mentally scarred.
"Despite brilliant work by the NHS team at the Welsh Centre for Burns and Plastic Surgery, Morriston, he will still have to undergo repeat surgical procedures well into his teens and ultimately will be left with significant facial scarring for the rest of his life."
They said the fact that the boy was attacked at his own home had had "a catastrophic effect on his sense of security and that of our family".
The parents added that since the attack they had campaigned to tighten up the law on care and control of dogs.
They said they welcomed an announcement by First Minister Carwyn Jones on Tuesday that the Welsh government was considering legislation on the issue next spring.