Psychic Karl Lang jailed for duping vulnerable women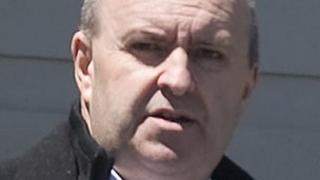 A psychic who convinced vulnerable women to strip naked to improve their chances of contacting the dead has been jailed for two years.
Karl Lang, 49, was convicted last month of 12 counts of causing women to engage in sexual activity without consent.
Lang, of Newport, targeted two women in their 20s who sought him out in the belief he could contact dead relatives.
He was also banned from practising as a medium, clairvoyant, spiritualist or healer for 10 years.
Sentencing Lang at Cardiff Crown Court on Friday, Judge Patrick Curran QC said Lang had an "almost hypnotic ability" to make his victims overcome their inhibitions.
During Lang's trial last month, Newport Crown Court heard that both his female victims were encouraged to perform sex acts in front of him and pressed to act more and more outrageously as his influence increased.
One woman told the trial she was conned into acting like a "porn star" in the belief that it would boost her own spiritual powers.
The court was told that Lang generally sat watching, fully clothed, but would occasionally take his clothes off and join in.
His manipulative behaviour lasted nearly four years and covered a period from November 2005 until September 2009, the court heard.
Judge Curran said: "This was repeated, systematic conduct, prolonged and plainly planned.
"It was designed to be more and more gross and it could only have been for your own sexual gratification. You seem to have had an almost hypnotic ability to make these women overcome their inhibitions."
'Lack of remorse'
He added: "They put their trust in you and you betrayed that trust. You violated your role as a spiritual adviser and convinced them to engage in sexual activity.
"You have displayed an utter lack of remorse in that you continue to deny these offences."
Lang had denied the offences, but a jury found him guilty of all 12 charges, dismissing claims that he was an innocent spiritualist instructor. All 12 counts were majority verdicts.
Nigel Fryer, defending, said: "He (Lang) will never again practise as a spiritualist in any way shape or form.
"These are very unusual charges. He was fully clothed throughout."