Ten evacuated after fire in Hillside Terrace, Wattstown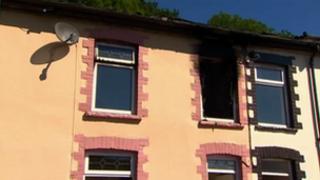 Ten people from four properties had to be led to safety after a fire spread through a Rhondda terrace overnight.
South Wales Fire and Rescue Service said people were helped from the two-storey properties in Hillside Terrace, Wattstown, at 23:30 BST on Sunday.
Six engines attended the fire, which is thought to have started in a bedroom at an unoccupied house and spread to others through the roof space.
Meanwhile, crews have tackled a stable fire in Ogmore Vale, Bridgend county.
Two crews were called to Wyndham Street at 04:20 BST on Monday after a report stables and garages containing two vehicles and a motor home were well alight.
The blaze is next to the Wyndham public house.