Thresher shark on sale at Cardiff market stall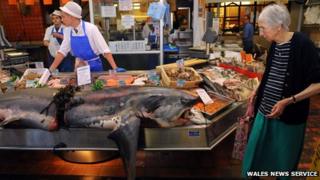 A fishmonger's stall in Cardiff has put a large thresher shark on sale.
The creature, which was 20ft (6m) and weighed 550lb (250kg), was so big it was cut in half to fit on the counter at Ashton's in the central market.
The shark, which was landed in Cornwall, has a price tag of £3,000, and has been declared a vulnerable species by conservationists.
It was landed in Falmouth by a trawler - The John Boy - which was fishing for mackerel in the English Channel.
Stall manager Nick Adams said: "We only get sharks in the summer when they come into British waters because of the warmer weather.
"We're hopeful we'll find a buyer for him - shark is usually very popular with our customers."
Thresher sharks are more commonly found off the coast of Asia and North America.
A string of sightings have been reported in British waters in recent years, which marine scientists attribute to climate change.
However, three species of thresher shark have been declared to be "vulnerable" according to the International Union for Conservation of Nature and Natural Resources (IUCN) Red List of threatened species .