Cardiff Central Library £13.5m closes after glass shatters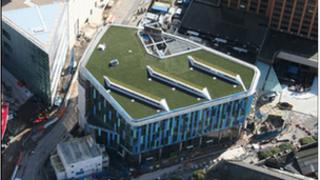 Cardiff's Central Library has been closed after a glass panel shattered earlier this week.
The internal pane suddenly burst into pieces on the fifth floor of the £13.5 million building.
It is expected to reopen next week after all internal glass panels are covered with a protective film.
Cabinet member for education and lifelong learning Julia Magill called it disappointing but added "we cannot take any chances" with public safety.
A spokeswoman for Cardiff council said: "During the weekend all the internal glass panels in the building will be wrapped in a protective layer.
"This temporary solution will enable the library to reopen early next week though this may be on a phased basis depending on the length of time the process takes."
The six-storey library opened in 2009.
Library users have been told they can return or renew books at branch libraries.