Olympics football: 69,000 watch Team GB men beat Uruguay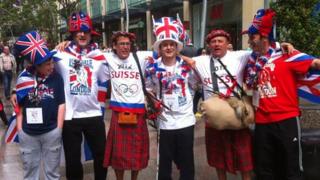 Thousands of fans gathered at Cardiff's Millennium Stadium as the Great Britain men's football team played there for the first time at the Olympics.
A 69,000 sell-out crowd watched Team GB beat Uruguay 1-0 in the second match of a double-header. Earlier, Mexico beat Switzerland 1-0.
Team GB will now return to Cardiff on Saturday for the quarter-final.
Welshman Craig Bellamy led the team after Ryan Giggs started on the bench.
Welsh stars Joe Allen, Aaron Ramsey and Neil Taylor were also in the squad.
Welsh fans in the crowd were asked not to boo the national anthem following a plea from players, and it was respected.
GB took the lead a minute before half-time when Daniel Sturridge scored the only goal of the match.
Speaking before the event, Millennium Stadium manager Gerry Toms advised people to turn up early and not to bring bags.
Last minute
"I know some are only coming for the GB game but we say come and watch part of the first game and it will help considerably with the search procedure," he said.
"If you don't need to bring a bag then don't bring on. It's going to slow the entry into the stadium."
Cardiff city centre was packed as fans arrived in the city centre.
Supporters from all four sides competing created a party atmosphere in the streets - playing instruments and dancing.
Nick Haggar, from Haverfordwest, took his three children to watch Team GB play Uruguay.
"It's great to come here and be part of the Olympics," he told BBC Wales.
"There's been an excellent atmosphere. It's great to see people from all the other nations having such a good time."
Matt Lewis, 43, brought his sons Myles, 11, and Joshua, nine, to the game.
"We're excited to be here," he said.
"This is our first Olympic match and it's a great occasion."
David and Jean Peters, from Worcester, took their children Euton, 17, and Ethan, eight, to watch Team GB.
Mrs Peters, 38, said: "We thought if the Olympics are in the UK this might be our only chance to watch it. Everyone said Cardiff is a great city and they were right."
Swiss fans Leoni Giorgio and Salamina Alberto, from Locarno in Switzerland, have been following their team all around the UK.
'Tense and joyous'
"It's been a very good experience. It think we have to beat Mexico 2-0 today to qualify. We have confidence we can do it."
Earlier, crowds gathered in the Hayes to watch rowers Helen Glover and Heather Stanning win Great Britain's first gold medal on the BBC big screen.
Before the match, GB coach Stuart Pearce and his staff took some time out in Bute Park.
First Great Western put two extra services on after the match from Cardiff Central to London Paddington at 22:55 BST and 23:10 BST, as well as almost 3,000 extra seats on its regular services.